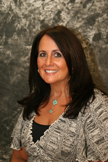 Cannon selected to elite post
Aug 7, 2012
By Carl Horst
Only 17 REALTORS from across the country were selected for the upcoming NAR Leadership Academy. Says Otto Catrina, chairman of the Leadership Academy Advisory Board:
What we look for are REALTORS who are active on the local and state levels and have a passion for issues that are good for the industry. We want individuals who are well rounded, rather than someone who's served on 100 different committees, because our goal is to focus on enhancing their leadership skills through collaboration.
Cannon, of Columbus, becomes only second Buckeye to join the Leadership Academy. Karen O'Donnell, of Mayfield Heights, was part of the the 2011 class.
The Leadership Academy is a a nine-month, five-stage training and development program designed for REALTORS active with the local and/or state organization, but not yet at the national level.
"I'm thrilled that Gloria has been selected to join this exclusive group of future REALTOR leaders," said Bob Fletcher, OAR's chief executive officer. "She has made a positive difference with her involvement -- both at the Columbus Board and here at OAR. Gloria has garnered a tremendous amount of respect among her peers for her keen insight, hard work and extraordinary vision in advancing the interests of the profession. We wish her much success in her efforts going forward!"
Fletcher points to Cannon's tireless efforts as chair of OAR's Convention Committee in planning and executing the Annual Convention & Expo, Oct. 2-4, at the Columbus Hilton at the Easton Town Center, as proof that NAR made the perfection selection for its incoming leadership class.
"She and her fellow Committee members have put together a world class event, one featuring the industry's leading speakers, at one of Ohio's most dynamic locales," Fletcher added. "She's been instrumental in setting the foundation for what will be a memorable Convention -- with fun, excitement and the perfect blend of career advancement opportunities -- giving attendees the tools needed to meet the challenges of today's marketplace."