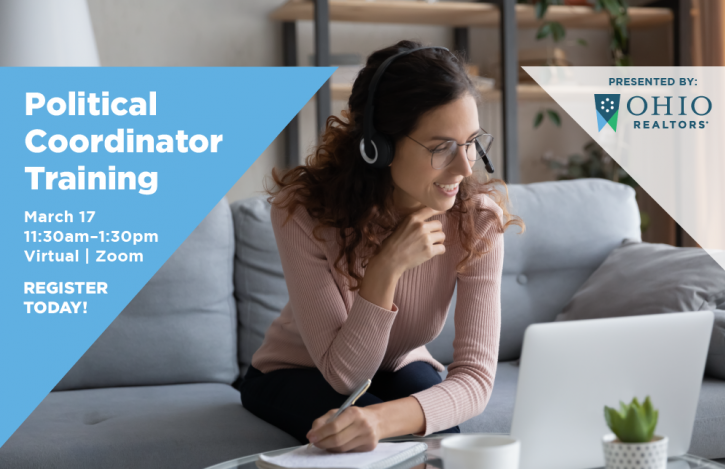 Register today for our FREE Political Coordinator Training!
Feb 8, 2021
By Veronica Cardello, Ohio REALTORS Director of Local Government Affairs
Ohio REALTORS are gearing up for the 2021 Federal and State Political Coordinator Virtual Training on March 17, 2021, from 11:30 a.m. to 1:30 p.m., for current contacts and any member interested in participating in this critically important part of our advocacy effort. The program is available at no cost, but registration is required -- CLICK HERE to secure a spot.
Political Coordinators are REALTOR members who are paired with a member of Congress or the Ohio General Assembly and member of Ohio's Congressional Delegation. Our Political Coordinators serve as a point-person on real estate issues affecting our nation and state. Political Coordinators put a face on the issues that are being debated from the Capitol to the Statehouse.
Our virtual training program will allow you to hear from key staff, elected officials and learn about the best practices for grassroots lobbying.

Since its launch three years ago, Ohio's Political Coordinator program has allowed the organization to pair REALTORS directly with legislators in the Ohio General Assembly. The Coordinators strengthen the industry's voice on issues of concern to the profession.
We encourage any REALTOR interested in participating to CLICK HERE and register for the FREE program. If you have any questions, please contact Veronica Cardello at .