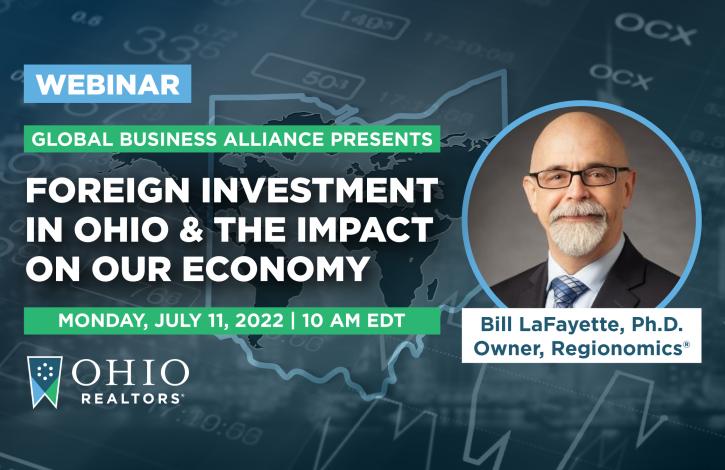 Ohio REALTORS Exclusive Webinar: Foreign investment in Ohio
Jun 13, 2022
The Ohio REALTORS Global Business Advisory Committee is hosting an exclusive, free webinar exploring the influence international markets have on the state's economy. The event, scheduled for July 11 at 10 a.m., features Bill LaFayette, owner of Columbus-based Regionomics, which focuses on economic development strategy and local economies -- their industries, people, workforce, growth and change.

Jason Westendorf, chair of the Global Business Advisory Committee, says the program will offer keen insight on the impact of foreign investment across Ohio and how it's key to Ohio's long-term economic health.
CLICK HERE to register for this FREE webinar -- which is open to all Ohio REALTORS.
Lafayette, who provides exclusive quarterly economic reports to Ohio REALTORS, offers more than 25 years of experience in economic development and economic analysis in central Ohio. Prior to founding Regionomics in 2011, he spent 12 years as vice president of economic analysis for the Columbus Chamber of Commerce and four years with Rickenbacker Port Authority, which formerly managed Rickenbacker International Airport and its Global Logistics Park and Foreign-Trade Zone.