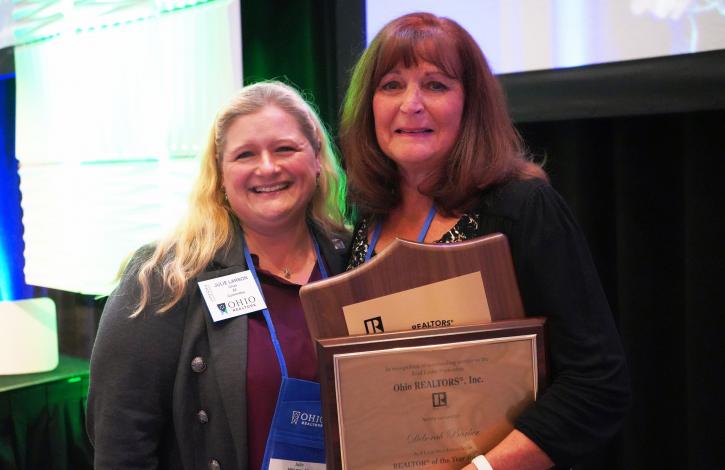 Deborah Barber receives Ohio's 2021 'REALTOR of the Year' Award
Sep 30, 2021
Deborah Barber (right), of Youngstown, is presented Ohio's 2021 "REALTOR of the Year" Award by Ohio REALTORS, pictured here with Julie Larson (left), CEO of Youngstown Columbiana Association of REALTORS. The presentation was made at the Ohio REALTORS Annual Convention & EXPO in Columbus, September 27-29.
REALTOR Deborah Barber, of Youngstown, was honored as the Ohio REALTORS 2021 "REALTOR of the Year."
The announcement of Barber's selection was made at the Ohio REALTORS 111th Annual Convention & EXPO, Sept. 27-29, in Columbus.
Barber was nominated by the Youngstown Columbiana Association of REALTORS and is affiliated with Altobelli Real Estate. She has been a REALTOR since 1986.
Judging of the "REALTOR of the Year" award is based on professional achievements, local REALTOR Board/Association activities, service at Ohio REALTORS, and National Association of REALTORS, as well as business and education experience and civic activities.
At the local level, Barber has served on and chaired a variety of Board committees, including Legislative, RPAC, and Professional Standards, among others. She also has a regular presence at all events and programs held by the local board.
Barber on the state level has been an active participant in Ohio REALTORS governance meetings as a director, as well as serving as a member and chairing a host of Committees- including Professional Standards, Issues Mobilization, Legal Issues Forum, Government Forum, Legislative, and RPAC Fundraising among others. She has supported the RPAC for years, including joining the ranks of Major Investor Status in 2018 and 2019.
She has served as the National Association of REALTORS Federal Political Coordinator for Representative Tim Ryan since 2013.
Civically, Barber is very involved in her local community- serving on the Board of Directors for a local charity, serving as a trustee for a local political party, and serving as a Eucharistic minister and Parish Council member, among others.
In addition, Barber has earned the Accredited Buyers Representative and Certified Residential Specialist professional designations.
Ohio REALTORS, with more than 36,000 members, is the largest professional trade association in Ohio.