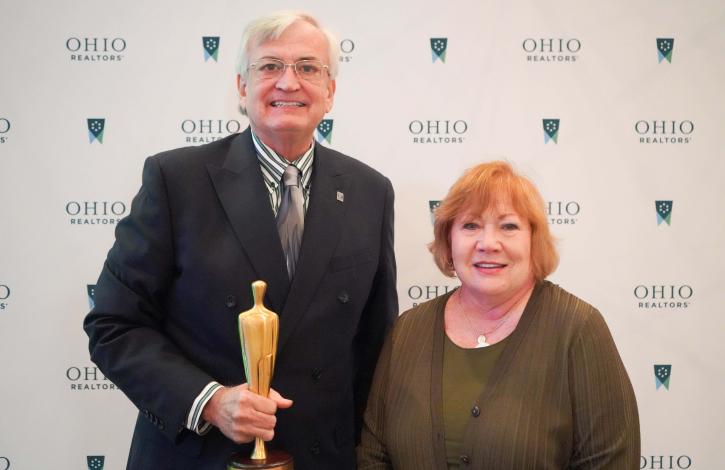 Jeff Owens honored with the 2021 Ohio REALTORS Distinguished Service Award (DSA)
Oct 7, 2021
REALTOR Jeff Owens, of Dayton, is presented with the Ohio REALTORS 2021 Distinguished Service Award (DSA). Jeff (on left) is pictured here with 2019 DSA Winner Sandy LoCascio (on right). The announcement of Owens's selection was made at the Ohio REALTORS 111th Annual Convention & EXPO, in Columbus, Ohio, September 27-29.
Ohio REALTORS created the "Distinguished Service Award" to honor long-standing members who have demonstrated an uncommon commitment to the goals and purposes of the REALTOR Association at the local, state, and national levels. Those eligible for the award must have been active members of the Association for 25 years and cannot have served as president of the organization.
Owens is affiliated with Better Homes & Gardens Big Hill in Beavercreek
At Dayton REALTORS, Owen's involvement goes back to 1997. Today, he is currently a director and Finance Committee member. Owens is also chairing the MLS committee and has been actively involved the RPAC/Legislative, Professional Standards, Technology and Forms committees.
His involvement with Ohio REALTORS stretches back to 1999. Owens is currently a director and a member of the Local Government Forum. His previous activities include membership in the MLS, Legal Issues, Legislative, Business Technology, Professional Standards and Communications committees.
Owens recently served as a member of the NAR MLS Listing Issues & Policy Committee.
The Ohio REALTORS, with more than 36,000 members, is the largest professional trade association in Ohio.