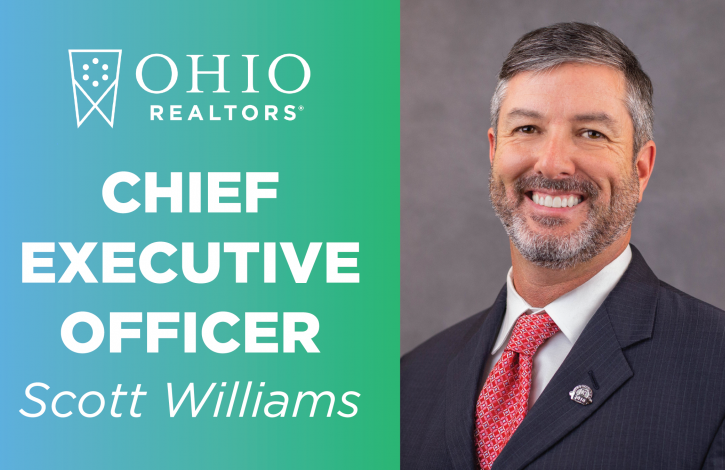 Ohio REALTORS names Scott Williams as the organization's new Chief Executive Officer
Dec 10, 2018
The 33,000-member Ohio REALTORS have named Scott R. Williams, of Dublin, as its Chief Executive Officer.
Williams, who currently serves as the Association's Vice President of Public Policy, has worked in the organization's government affairs department since 2003. Williams succeeds Robert E. Fletcher who retired following 28 years of service to the organization, the last nine years as CEO.
A lifelong Ohioan, Williams has more than 20-plus years of direct government relations experience. Prior to joining Ohio REALTORS, Williams worked in public policy positions for the Ohio Farm Bureau Federation, Ohio Auto Dealers Association and as a legislative aide in the Ohio General Assembly.
Since joining Ohio REALTORS in 2003, Williams has helped to transform the Association's public policy department. His accomplishments include boosting the grassroots involvement of membership, strengthening the REALTORS Political Action Committee, developing a Political Advocacy Fund, launching a State Political Coordinator program and helping to foster new volunteer leadership by assisting in the development of the Ohio REALTORS Leadership Academy.
"Scott has elevated Public Policy into our organization's leading department, one that is focused on implementing the vision of both leadership and membership," said President Tiffany Meyer. "We're confident that his leadership and dynamic vision will propel Ohio's REALTOR profession to even greater heights in the days ahead."
Williams becomes the seventh Chief Executive Officer of Ohio REALTORS since its formation in 1910.
"The leadership and members of Ohio REALTORS have a true passion for what they want out of this Association," Williams said. "I share that desire to strengthen our reputation and am committed to the success of our members, our Local Boards and Ohio REALTORS as a whole."
Williams is a graduate of Ohio University, earning a Masters of Public Administration (1995) focused on policy and fiscal analysis and Bachelor of Arts (1992) in political science.
Civically, Williams has served in leadership capacities for Habitat for Humanity of Ohio, State Fire Council and on the Board of Trustees of Shawnee State University.
Williams and his wife, Tracey, reside in Dublin, Ohio with their two daughters, Sophie and Campbell.