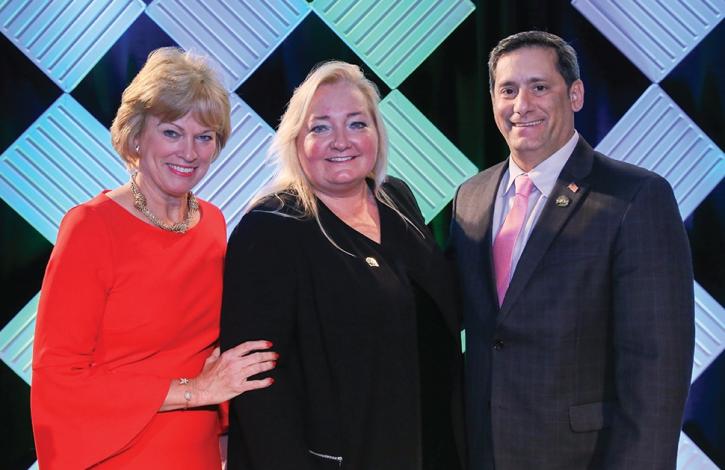 Dayton's Anjanette Frye takes leadership reigns of Ohio REALTORS
Jan 2, 2019
The Ohio REALTORS 2019 Leadership Team (from left): President-elect Chris Reese, Columbus, President Anjanette Frye, Dayton, and Treasurer Seth Task, Cleveland.
Anjanette Frye of Dayton assumes office as the 2019 president of the Ohio REALTORS. Joining Frye on this year's Leadership Team is President-elect Chris Reese of Columbus and Treasurer Seth Task of Cleveland.
Frye is owner of RCF Properties in Dayton.
On the local level, Frye served as President of the Dayton REALTORS in 2012. She served on numerous committees including: Budget & Finance, RPAC, Strategic Planning, Legislative, Emerging Issues, MLS Operations, YPN and Professional Standards. She was the DABR Broker Owner of the Year in 2014.
On the state level Frye has served as an Ohio REALTORS District Vice President (2014-2015) and has been a Director since 2008. She served as a member of numerous Committees, including: Legislative Steering, Legal Action, RPAC, Commercial Industrial, Residential Property, Communications and Finance, among others. Frye was a member of the Ohio Division of Real Estate Credentials Task Force (2013-2014).
Additionally, she was as a NAR Director in 2012 and served on a number of Committees, including Housing Opportunity, Commercial Real Estate Research, and Commercial Legislation and Regulatory Advisory Board. She served in leadership of the Property Management Forum and Commercial Committee. Frye is currently serving as 2018 Chair of the State Leadership Idea Exchange Council. In 2014 she was a member of the NAR Environmental Summit. Frye served as Region 6 RPAC Trustee from 2015-2017, representing Michigan and Ohio REALTORS. She contributes to RPAC at the Golden R Major Investor Level, is a President's Circle Member, and is a 2018 member of the RPAC Hall of Fame.
Since 2017 she has served as chair of the Ohio Division of Real Estate's Property Management Task Force.
Frye holds NAR's Accredited Buyer Representative (ABR), e-PRO, Broker Price Opinion Resource (BPOR), (CIPS) Certified International Property Specialist, and is a candidate for the Certified Property Manager (CPM) designation.
Frye resides in Dayton with her spouse, Shay, and their daughter. She is active in Big Brothers and Big Sisters and Habitat For Humanity.
2019 Ohio REALTORS President-elect Chris Reese is broker/owner of Metro II Realty.
Reese was licensed in 1977 and began her career working for her father, Jim Luebbe at Metro II Realty, until she took over as broker in 2007.
On the local level, she served as President of Columbus REALTORS in 2006. She was co-founder of the original Columbus Independent Broker's Association (CIBA) in 1995 and President of the Columbus Women's Council of REALTORS in 1997. Reese has served on and chaired numerous committees including: Strategic Long-Range Planning, Budget, Finance & Investments, MLS, Builder/REALTOR Alliance, Professional Standards, Political Activity & RPAC, and Appraisal, among others. She was named Columbus REALTOR Broker of the Year in 2009 and the recipient of "Charter Class" Lifetime Achievement Award in 2005.
On the state level Reese has served as an Ohio REALTORS District Vice President (2009-2010) and has been a Director since 1997. She serves as the 2017 Chair of the newly created Ohio REALTORS My REALTOR Party Committee. She served as a member of numerous Committees, including: Finance, Executive, Appraisal, Strategic Planning, Professional Development, Legislative Steering, Issues Mobilization, RPAC Trustees, Convention, and Nominating, among others. She was awarded the 2018 Ohio REALTORS Award of Excellence for sales volume in 2017-2018.
Nationally, she serves as the 2018 Chair of the Large Board Forum, and as a NAR Director (2004-2009, 2014-2015, 2017-2018) and served on a number of committees, including: Large Board Forum, Consumer Communications, MLS Policy, and Resort & Second Home. She contributes to RPAC at the Crystal R Major Investor Level and is a President's Circle Member.
Reese holds NAR's Certified Residential Specialist, (CRS) designation. Civically, she has volunteered for the Campaign for Cancer Prevention, March of Dimes, and Meals on Wheels. She served as a Trustee for Homeport by the Columbus Housing Partnership.
Reese resides in Columbus with her husband, Durk, who is a Certified Real Estate Appraiser. She has a daughter Lindsey, son Dustin, and two grandchildren.
2019 Ohio REALTORS Treasurer Seth Task is associated with Berkshire Hathaway Home Services Professional Realty.
Task has served as member and in leadership on a variety of Akron Cleveland Association of REALTOR Committees, including serving as its first president in 2014 after participating in on the merger task force between the former Cleveland and Akron boards. He has been a REALTOR since 2005 and has appeared before the Federal Reserve Bank, FHFA and the Department of Housing and Urban Development as an expert in his field.
On the state level, Task served as a member of the Board of Directors since 2011. He has served as a member and in leadership for a number of the organization's committees and task forces, including: Executive, Finance, Legislative Steering, Local Government Forum, Appraisal, Young Professionals Network, Finance, MLS, Convention, Professional Development, Issues Mobilization and Communications Audit.
Task has served as a chairman of the National Association of REALTORS' Federal Finance & Housing Policy Committee and is currently on the board of directors of NAR as well as vice chair of the Conventional Financing & Policy. Additionally, he has served on NAR's Public Policy Coordinating Committee, Public Policy Advocacy Group, and Valuation Committee. He earned the Green and Certified Residential Specialist (CRS) professional designations from NAR. Task is a 2015 NAR Leadership Academy graduate. He contributes to RPAC at the Golden R Major Investor level and as a President's Circle member.
Civically, he has been involved with the Solon Chamber of Commerce, served on the Board of Directors of Neighborhood Housing Services of Greater Cleveland, and has been a Cleveland Masonic Lodge Brother since 1995. He has three children including a senior at The Ohio State University.
The Ohio REALTORS, with more than 33,000 members, is the largest professional trade association in Ohio.