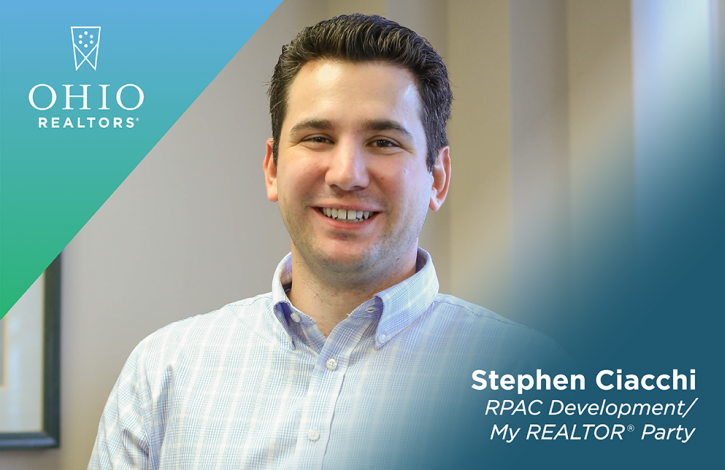 Stephen Ciacchi joins Ohio REALTORS Public Policy team
Jan 8, 2019
Stephen Ciacchi has joined the Ohio REALTORS Public Policy team, focusing on efforts to strengthen the organization's RPAC Development/My REALTOR Party programs.
Ciacchi, of Westerville, has an extensive background in the field of fundraising and politics. He's recently co-founded a political outreach organization for young adults, served as an elected member of a Delaware County Central Committee, been a member of the Genoa Township Citizen Police Advisory Committee and served as campaign manager for a successful Ohio House of Representative race.
Prior to joining Ohio REALTORS, Ciacchi served as financial/legal analyst for Columbus-based L Brands. Among his many duties, he represented the company at luncheons and community seminars with the Government Affairs and Public Relations department; developed training material to assist new hires and cross-train existing employees; developed and implemented a standard procedure for lease documentation, record retention and reporting; collaborated with management and senior staff to improve data integrity; and worked with a team to identify significant cost savings to the company. He previously worked as a paralegal for Squire Patton Bogg, LLC in Columbus and in a similar capacity for Walmart.
Ciacchi earned a master's of public administration from Kent State University, a post baccalaureate paralegal certificate from Ashland University and a bachelor of science degree from Ashland University.
Stephen is a member of the Abruzzi Club in Westerville and Sons of Italy Columbus. He and his wife, Kristine, are expecting their first child in March.
Ohio REALTORS, with more than 33,000 members, is the largest professional trade association in Ohio.