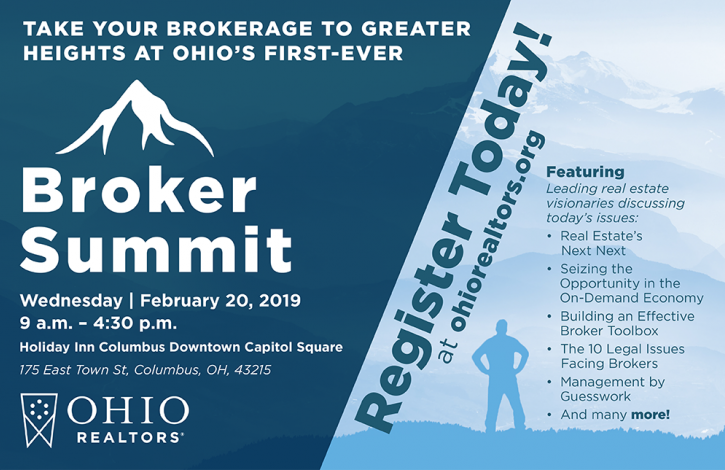 Ohio's first-ever 'Broker Summit' will take your brokerage to greater heights!
Jan 8, 2019
The nation's leading real estate visionaries are coming to Ohio to help brokerages reach even greater heights of success!
The first-ever Ohio REALTORS "Broker Summit," an all-day program set for Feb. 20 in Columbus, will allow brokers, managers and owners from across the state to network and discover success strategies from the profession's top national speakers. Participants will gain insight into critical business strategies and tools for successfully running a brokerage.
Among the issues being addressed:
The always provocative yet thoughtful Rob Hahn will serve as the program's keynote, discussing "Real Estate's Next Next." Hahn's session -- based on years of reasearch and experience in the industry, combined with more than a year of intensive research into the reality of real estate brokerage -- will explore not only what's happening to traditional brokerages but also what's coming next. He'll provide keys to transform your brokerage!
Every real estate transaction presents legal pitfalls. Finley Maxson, NAR's senior counsel, will explore at the "Top 10 Legal Issues Facing Brokers," including lawsuits that buyers and sellers may bring against brokers and agents (such as misrepresentation, nondisclosure of property condition and breach of fiduciary duty, among others).
Netflix, Amazon and Uber have changed consumers' expectations about everything, including the home buying and selling process and the value their agents provide. Tiffany Tanquary, of DocuSign, will provide insight on "Seizing the Opportunity in the On-Demand Economy," showcasing how brokerages can stay relevant and excel in todays fast-paced marketplace.
The real estate marketplace is changing...and quickly. What were once outstanding ideas may have grown their usefulness, but how will you know? Eric Stegemann, with the TRIBUS Group, will look at the issue of "Management by Guesswork." Traditionally, decisions like where to put offices, what neighborhoods were likely to be the next big thing, what commission rates to pay agents, and identifying what agents would be successful were made by intuition and gut. This session will show that there's a more profitable path forward.
You'll walk away with an invaluable "Broker's Toolbox -- Tools, Tips and Techniques for Building Your Real Estate Brokerage," thanks to the highly popular and innovative Sean Carpenter. By the end of the session your toolbox will be filled with everything you need to succeed: attitude, goal setting, time management, technology, social media, follow up, marketing and more!
Your Ohio REALTORS legislative and regulatory team -- Chief Executive Officer Scott Williams and Legal Counsel Peg Ritenour -- will get you up-to-speed on everything you need to know about what's happening.
This inaugural "Broker Summit," which includes 5.5 hours of continuing education credit, will be held at the Holiday Inn Columbus Downtown-Capitol Square, 175 E. Town Street. The program, from 9 a.m. to 4:30 p.m., will be emceed by President Anjanette Frye and President-elect Chris Reese, and includes a Broker Brainstorming Luncheon, allowing you to share best practices with your colleagues.
CLICK HERE to secure your seat at this "DON'T MISS" event!