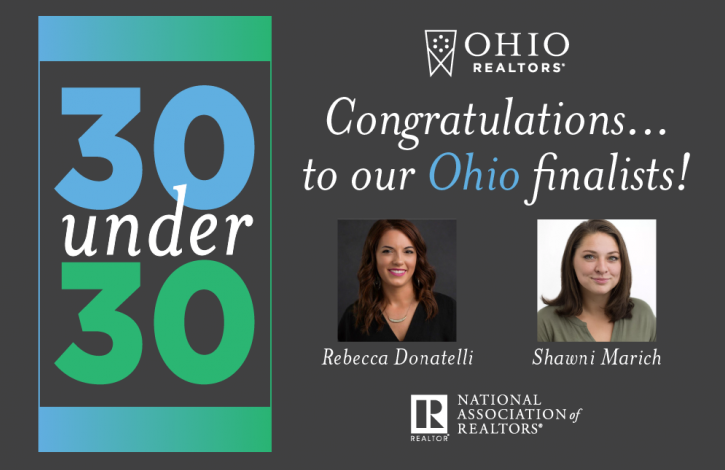 Ohio REALTORS Rebecca Donatelli & Shawni Marich announced as finalists for '30 Under 30' class!
Mar 11, 2019
Congratulations to two Ohio REALTORS -- Rebecca Donatelli and Shawni Marich -- for being named as finalists for REALTOR Magazine's prestigious 2019 "30 Under 30" class!
Donatelli, with McDownell Homes Real Estate Services in University Heights, and Marich, with Novella Realty in Austinberg, were included among the 50 accomplished real estate professionals that will be vying for a spot in the 2019 class of 30 Under 30. Online voting for one of the spots opens for one week beginning on Friday, March 15. Judges will select the other 29 honorees.
"It's all about relationships for this year's candidates: They love the business of real estate, but they love the people they serve event more," notes REALTOR Magazine. "These Renaissance men and women use their passions to authentically brand their businesses, showing who they are and what they love."
Members of the public will be able to vote once daily for their preferred finalist. CLICK HERE for details on the program.
Through the years, a number of Ohio REALTORS have earned inclusion in the 30 Under 30 class, including:
2000 -- Adam Kaufman, Woodmere
2001 -- Andrew Gaydosh, Dayton
2003 -- Nicole Yoder-Barnhart, Hilliard
2004 -- Mara Ackermann Klopfer, New Albany & Terry Zimmerman Jr., Bryan
2008 -- Jose Medina, Canton
2010 -- Jason Altobelli, Niles
2012 -- Scott Phillips, Cleveland
2017 -- Ryan Gillen, Dayton
2018 -- Rob Riddle, New Albany