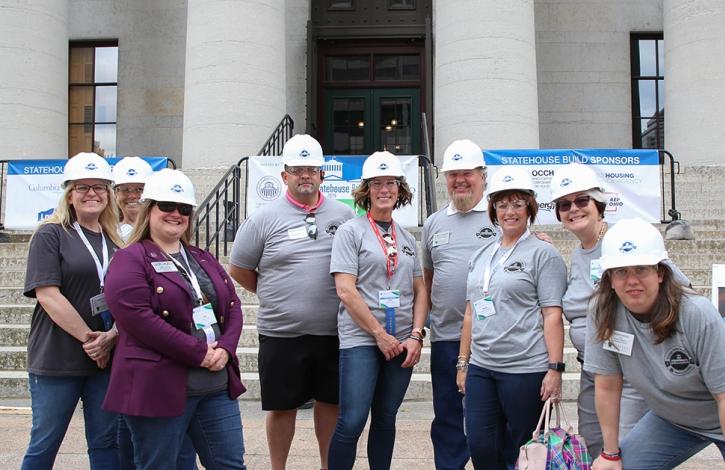 Ohio REALTORS partners with Habitat for Humanity of Ohio to spotlight affordable housing on the Statehouse grounds
May 8, 2019
Ohio REALTORS, for the second consecutive year, partnered with Habitat for Humanity of Ohio to spotlight the need for affordable housing by working with state lawmakers to erect a home on the Ohio Statehouse grounds.
Nearly 40 REALTORS spent an afternoon swinging hammers alongside state lawmakers and Habitat volunteers. The event, held on May 1 during the Ohio REALTORS Spring Legislative Conference, involved the initial construction of a new home for an Ohio family. Following the event, the home was disassembled and moved to a permanent location. Ohio is one of only two states where a Habitat home has been constructed on the grounds of a state capital.
"Ohio REALTORS are proud to once again partner with Habitat for Humanity of Ohio on this ground-breaking, life-changing event," said Ohio REALTORS President Anjanette Frye. "This event embodies the power and importance of home ownership. It captures the can-do spirit of a family willing to roll up their sleeves in order to make home happen. And, most importantly, it puts on full display how our community is bound by the American Dream.
"REALTORS know, first-hand, the importance of home ownership and the freedom it provides," Frye continued. "A home strengthens our community, bringing about stability and a sense of place to the family that lives there."
Habitat families must complete 300 hours of sweat equity, which includes building their own home and completing homeownership classes. The family then purchases the home at fair market value with a zero-interest, affordable mortgage.
"We're honored to have been afforded the opportunity to work alongside members of the Ohio General Assembly and volunteers from the wonderful Habitat organization to construct what will be a home filled with laughter, joy and limitless possibilities," Frye said. "What transpired over the course of the event was transformative and showcases how creating safe, decent and affordable housing brings everyone together with common purpose."
Ohio REALTORS, with more than 33,000 members, is the largest professional trade organization in the state.