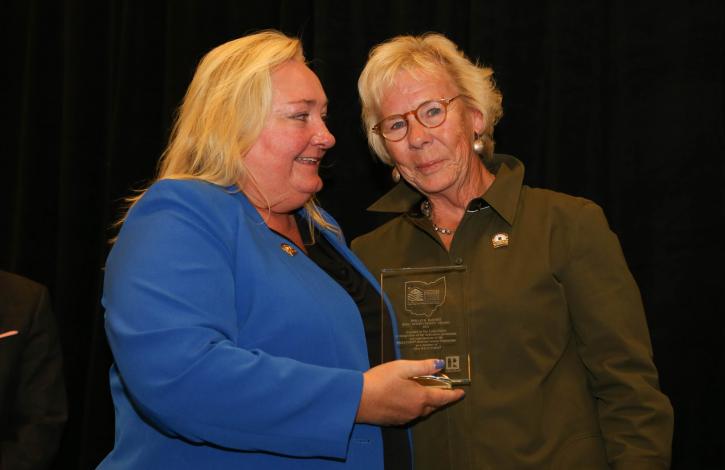 Sue Lusk-Gleich named Ohio REALTORS 2019 'Phillip R. Barnes RPAC Achievement Award' honoree
Sep 23, 2019
REALTOR Sue Lusk-Gleich (right) receives the Ohio REALTORS 2019 "Phillip R. Barnes RPAC Lifetime Achievement Award" from President Anjanette Frye for her strong commitment to the organziation's political advocacy efforts.
REALTOR Sue Lusk-Gleich, of Columbus, was honored with the Ohio REALTORS 2019 "Phillip R. Barnes RPAC Achievement Award."
The presentation of the Award was made at the organization's Board of Directors meeting during the 109th Annual Convention & EXPO, Sept. 16-18, in Cincinnati.
The "Phillip R. Barnes RPAC Achievement Award" was created in 2001 in memory of Past President Phillip R. Barnes, who was a leading advocate of the organization's REALTORS Political Action Committee. The Award is presented annually to a REALTOR whose commitment to RPAC and political involvement is exemplary.
Lusk-Gleich served as President of Columbus REALTORS in 2010 and recieved the Distinguished Service Award (DSA) from Ohio REALTORS in 2016. She has served as a member and in leadership of many Committees at Ohio REALTORS, including: RPAC Trustees, Scholarship and DSA. She has also been instrumental in shaping the vision of the highly successful Ohio REALTORS Leadership Academy.
She is a trustee of the Ohio REALTORS Charitable & Educational Foundation, playing an instrumental role in processing nearly 700 applications and approving nearly $500,000 in direct funding to residents of the Miami Valley area whose home or apartment were damaged by the Memorial Day tornadoes.
On the national level, Lusk-Gleich has contributed to RPAC at the Platinum R Major Investor Level and as a Golden R for many years. She is also a member of the National Association of REALTORS (NAR) RPAC Hall of Fame and was part of inaugural class inducted into the Ohio REALTORS RPAC Hall of Honor in 2019. She has also served as a NAR Director for three years and is currently serving on the NAR RPAC Trustees Federal Disbursement Committee, and was a member of RPAC Participation Council in 2018.
"Over the years, Sue has truly led by example on the importance of RPAC," said Ohio REALTORS President Anjanette Frye. "REALTORS are beneficiaries of her unmatched leadership and support to this important cause, but also her tireless effort toward imporving the real estate industry and profession."
Past recipients of the Phillip R. Barnes RPAC Achievement Award are: Phil Barnes (2001), Harley E. Rouda (2002), Vince Aveni (2003), Mary Pollock (2004), Nancy Sharp (2005), George Smith (2006), Steve Brown (2007), Hal Maxfield (2008), Barbara Lach (2009), Darlene Breen (2010), Bonnie Boyd (2011), Charlotte Van Steyn (2012), Phil Morrical Jr. (2013 — posthumously), John Lynch (2014), Joseph T. Aveni, Jr. (2015), Bradley Bennett (2016), Terry Hankner (2017), and Brad Knapp (2018).
The Ohio REALTORS, with more than 32,000 members, is the largest professional trade association in Ohio.