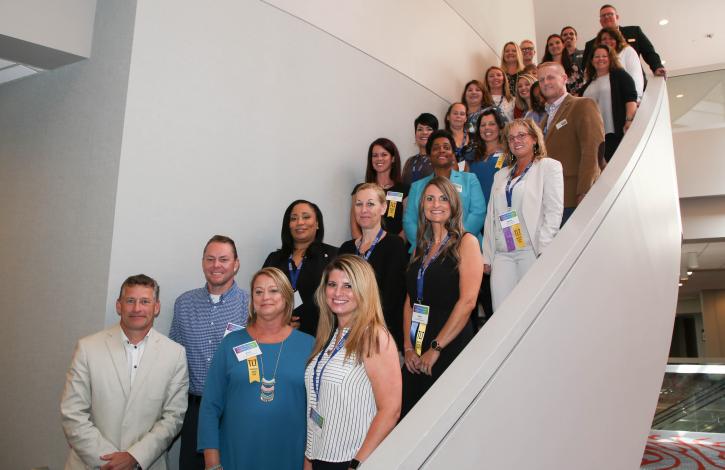 Ohio REALTORS celebrates its 2019 'Tomorrow's Leaders Today' class
Sep 24, 2019
Congratulations to the 31 Ohio REALTORS that participated in the 2018 "Tomorrow's Leaders Today" program during the Annual Convention & EXPO, Sept. 16-18, in Cincinnati.
The TLT program, the brainchild of Past President George Smith in 2000, allows Local Boards/Associations to identify a rising industry leader and provides a free registration to attend the Ohio REALTORS Annual Convention. Ohio REALTORS hosts special programs -- including a welcome luncheon -- to expose the participants to the organization and encourage continued involvement.
"Tomorrow's Leaders Today is a wonderful program that allows our future leaders to gain first-hand insight of Ohio's REALTOR organization and how they can make a meaningful difference in the future direction of their chosen profession," said Ohio REALTORS President Anjanette Frye. "We hope that their involvement and exposure to Ohio REALTORS will serve as an inspiration for continued involvement in the years ahead. I was extremely impressed with the members of this year's class and eager to see how their talents will move our Association forward."
The 2019 TLT class includes REALTORS from 27 Local Boards/Associations:
Akron Cleveland Area Board -- Jeannet Wright
Ashland Board -- Samantha Dreibelbis
Ashtabula County Board -- Jennifer Barton
Athens County Board -- Donald Walker
Beaver Creek Area Association -- Zach Underwood
Butler-Warren Association -- Sara Poe
Cincinnati Area Board -- Lauren Brann
Columbus REALTORS -- Brittany Eddy & Amy Nitzschke
Dayton REALTORS -- Laurie Westheimer
East Central Association -- Alisa Rizzo & Tamara Tangen
Firelands Association -- Cynthia Gunderson
Heartland Board -- Chris Keller
Knox County Board -- Karleen Wilhelm
Licking County Board -- Jeff Kreager
Marion Board -- Stephanie Shaffer
Medina County Board -- Stacie Jackson
Midwestern Ohio Association -- Erin Spray
Northwestern Ohio Board -- Karol Yeager
Scioto Valley Association -- Lisa Minshall
Southern Ohio Association -- Sarah Kirkendall
Springfield Board -- Douglas Nave
Stark County Association -- Amanda Talkington
Toledo Regional Association -- Monica Davis & Jeremy Wolf
Warren Area Board -- Sam Maglassos
Wayne-Holmes Association -- Janell Cooper
West Central Association -- Ryan Clark & Sara Jullan
Youngstown Columbiana Association -- Brad McGovern
The Ohio REALTORS, with more than 32,000 members, is the largest professional trade association in Ohio.