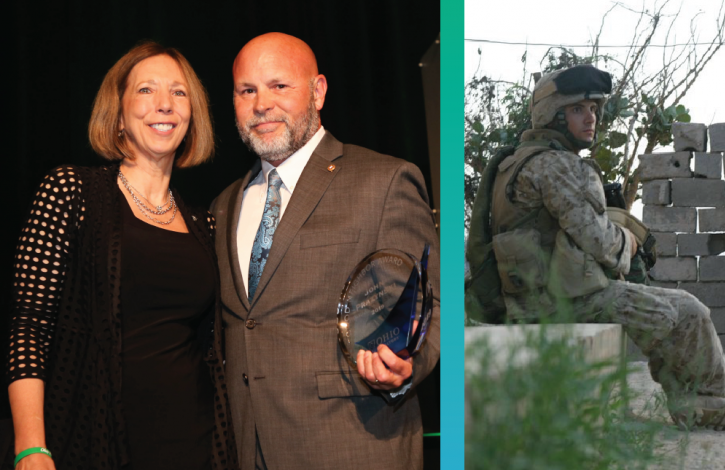 John Prazynski selected as Ohio REALTORS 2019 'Good Neighbor' honoree
Sep 25, 2019
(From left) Joanne Zettl, chair of the Ohio REALTORS Communications Committee, presents the prestigious Ohio REALTORS Good Neighbor Award to John Prazynski at the Annual Convention & EXPO in Cincinnati, Sept. 16-18. (Far right) Photo of John's son, Taylor, who was killed in an explosion while serving the nation in Iraq.
REALTOR John Prazynski, of Fairfield, was honored with the Ohio REALTORS 2019 Good Neighbor Award.
The presentation of the award was made at the organization's Grand Slam Session, a highlight of the Ohio REALTORS 109th Annual Convention & EXPO, Sept. 16-18, in Cincinnati. Prazynski, who was nominated by the Butler-Warren Association of REALTORS, is associated with Star One REALTORS.
The Good Neighbor Award, one of the organization's most prestigious honors, is presented to an individual REALTOR who has shown exemplary commitment to community service.
Prazynski, who serves as President of the Butler-Warren Association of REALTORS, was honored for turning a heart-breaking tragedy into a positive. He, along with his wife and real estate partner, Carol, and family started a 5k Run/Walk/Roll to support a scholarship fund started by an anonymous citizen in memory of their son, Taylor, within a few weeks of his passing. The citizen read Taylor's story in the newspaper and started the scholarship fund at the Fairfield Community Foundation. The scholarship fund has benefited approximately 65 graduating seniors and provided thousands of dollars at Fairfield High School in Taylor's memory.
Taylor, who's mother went into labor on Veteran's Day in 1984, had joined the Marines following his graduation from Fairfield High School. Two years later, while serving our nation, Taylor was killed in an explosion in Karmah, Iraq. Taylor was on his second deployment. His first deployment was in 2004 as part of a Peace Keeping force in Haiti.
Additionally, John and Carol, along with a group of friends, organized a Ride 4 Heroes motorcycle ride. The proceeds from last year's fundraiser went to 4 Paws 4 Ability, an Ohio non-profit organization that provides service dogs for injured veterans, and this year the proceeds went to Blue Skies for the Good Guys and Gals Warrior Weekend to Remember event.
Prazynski, a Veteran (United States Air Force 80-89), also supports a legacy fund for Fairfield's Joe Nuxhall Miracle League Field, where children and adults with ALL Abilities can play baseball. Joe Nuxhall's son Kim was one of Taylor's teachers in Elementary school, and one of the fields is dedicated in Taylor's memory. He has served on the Board of Directors for Impact a Hero, and is part of the steering committee for another veteran charity, Blue Skies for Good Guys and Gals Warrior Foundation. The Prazynski's have supported many veteran charities along their journey, to include TAPS (Tragedy Assistance Program For Survivors)and The Travis Manion Foundation, among others
The Ohio REALTORS, with more than 32,000 members, is the largest professional trade association in Ohio.