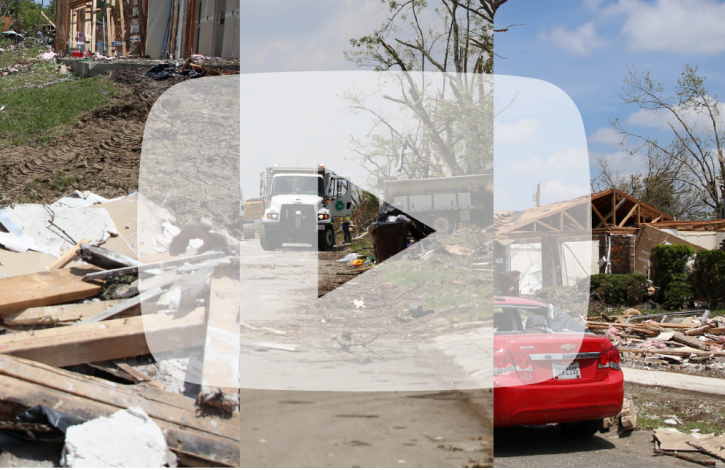 Ohio REALTORS help rebuild communities affected by spring tornadoes
Dec 3, 2019
Ohio's REALTORS, in partnership with the REALTORS Relief Fund, played an integral role in rebuilding communities and restoring the lives of those devasted by 19 tornadoes that ripped through the western portion of the state overnight on Memorial Day.
Between June and September 2019, the Ohio REALTORS Housing Disaster Relief Fund provided nearly $479,000 in direct grants to 613 residents whose home or apartment were damaged from the storms.
"Ohio's REALTOR community prides itself on making home happen and on helping build communities," said President Anjanette "AJ" Frye. "We are extremely grateful to the National Association of REALTORS, along with our partners at Dayton REALTORS and the Midwestern Ohio Association of REALTORS, for their assistance and support in helping make a meaningful difference."
The Relief Fund provided up to $1,000 in direct, non-repayable grants for mortgage or rent payments to qualified applicants whose home or apartment were damaged by the tornadoes. The Ohio Insurance Institute has conservatively estimated that insured losses from the storm total upwards of $480 million.
"Our community was devastated by the storms and our neighbors, family and friends were hurting," said Dayton REALTORS President Jan Leverett. "I'm so proud that my REALTOR family stepped up in such a big way and were one of the very first groups to provide much-needed relief to those whose lives were turned upside down."
The REALTORS Relief Fund approved more than $443,000 in funding, while Ohio REALTORS and its local Boards/Association and REALTOR members/staff raised nearly $46,000 in additional money.
Recipients of the Ohio REALTORS Housing Disaster Relief Fund have expressed sincere gratitude for the assistance:
"You guys have been a great help. And once I'm back to where I was; I would love to donate money to the fund you have that helped me in this time of need. Thank you again and I hope you have a blessed day." --Dayton resident
"I received your check yesterday for my mortgage payment. I am humbled and appreciative to your organization for this donation. This has been a very trying time for us and you stepped in to help in such as tremendous way. I have lived in Ohio all my life and I wouldn't trade the genuine spirit of care and concern that is shown to residents, especially in a state of emergency. Your generosity toward my family and our community will never be forgotten." --Dayton resident
"Thank you for the relief check in response to the Memorial Day tornadoes that impacted my family and home. Your gift has made a great impact on us." –Beavercreek resident
"We appreciate what you are doing for the families of the tornadoes. We live in a community that was hit very hard/ When we look outside the landscape and the look of our neighborhood is strange and surreal. We wanted to say thank you very much for supporting all of the families that had their lives changed in the minute or two while they prayed and took cover in their homes." –Dayton resident
"We are needing to do a complete rebuild of our home. Due to just purchasing our house in March, we do not have any savings left over for an insurance deductible and a mortgage payment at the same time." –Celina resident
"Our home is currently not able to be lived in. We are in a hotel until we find a home to rent while we rebuild. The roof lifted…the front entryway blew out…windows were blown out…the front of our house took a massive impact." –Beavercreek resident
"Complete loss. Two story home and the tornado took the entire second floor. Roof is caved and structurally unstable. Home needs to be demolished." –Trotwood resident
"Thank you for a speedy response in providing me funds for my housing. I really appreciate your act of love and all you have done for me in helping me get a new start. May God richly bless." –Dayton resident and REALTOR
"Thank you so much…I really appreciate this kindness as I've been going through the worst since the tornado. Things are starting to move forward for me with this being a big step! Thank you, Ohio REALTORS, I am so thankful from the bottom of my heart." –Dayton resident
Not only has the REALTOR organization played an important role in helping residents rebuild, the effort led to the creation of a new "Public Service Award" within Ohio REALTORS. The award will be given annually to community leader or elected official who displays outstanding leadership. President Frye presented the inaugural award to Trotwood Mayor Mary McDonald at the group's Board of Directors meeting on Sept. 18.
The city of Trotwood sustained significant damage to homes and apartment complexes. In total, 500 homes were damaged and 59 destroyed.
"Mayor McDonald has been a shining example of selfless service to her constituents during trying times," Frye said. "The Mayor coordinated emergency, safety and public works services, and kept the community focused on recovery."
Ohio REALTORS Chief Executive Officer Scott Williams noted a silver lining that came out of the disaster.
"Individually and collectively the power of the REALTOR organization really came to the forefront in the days and weeks following the disaster," Williams said. "Our leadership and staff went to work the morning after the storms, reaching out to REALTORS Relief Fund to request assistance…which was immediately approved. Our Local Boards and Multiple Listing Services, along with REALTORS and staff, made donations to the relief effort. We worked with local elected officials, media outlets and community groups to ensure that existence of the Ohio REALTORS Housing Disaster Relief Fund was publicized and readily accessible.
"Most importantly, at the end of the day, REALTORS in Ohio and across the nation worked together to make a positive difference at a time of need," he added.
Watch a highlight video of the Ohio REALTORS Housing Disaster Relief effort below: