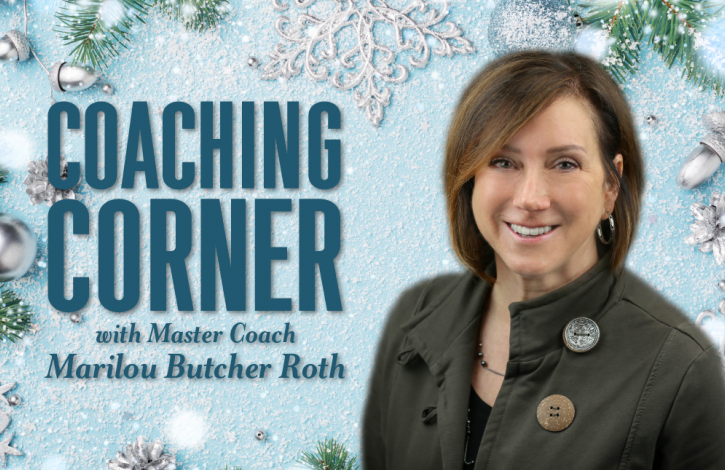 Coaching Corner: Another fun New Year's tip!
Jan 3, 2020
By Marilou Butcher Roth, Master Coach
Wow! For the the first time I'm typing "2020" -- very cool! Last week we talked about identifying the actions that you want to incorporate into your new year. I hope that has been of help to you. This week I want to look at qualities that you want to bring more of into your life, and how to effectively have this happen.
First, take a few minutes to identify what those qualities are -- I would suggest three of them. If it helps to get you started, mine are Vitality, Prosperity and Neutrality. Each year I focus on three qualities for the upcoming 12 months.
Okay, now that you have your three qualities, here is the next step. Get yourself into a calm place -- take several deep breaths, inhaling from your pelvis up into your chest. Then exhale from your chest down into your pelvis. Do this for a couple of minutes, slow and easy -- that typically is plenty to get yourself relaxed. If not, do a few more.
Now, imagine three big gold suns stacked over the top of your head (like an ice cream cone) and mentally see each of your three determined qualities in each of the suns. Once you see them, bring one at a time into your body. For example, I would see the "vitality sun" at the bottom of the stack -- I pop it and let the warmth of vitality move all the way through my body. It sometimes is fun to bring it outside of your body as well. The same occurs with the other two quality suns -- one at a time.
This is something you can do each day, to keep your qualities at the forefront of your mind. It's easy, fun and super productive!!!
Happy 2020!!!