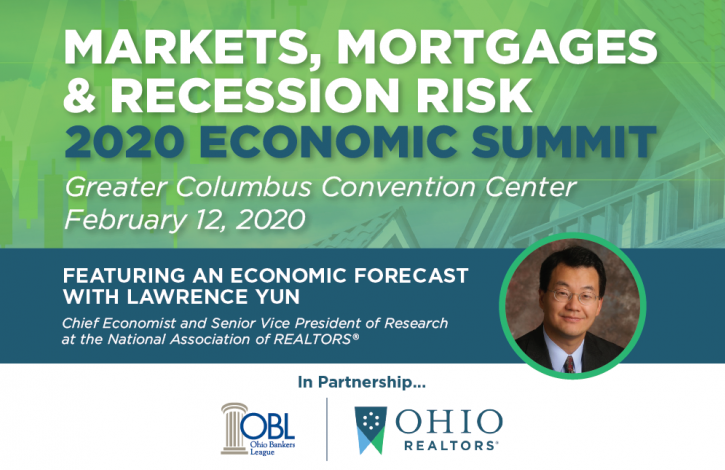 Ohio's REALTORS & Bankers League hosting Economic Summit featuring NAR's Lawrence Yun
Jan 28, 2020
The Dow is down 400 points and Asian economies are in turmoil -- but what will the long term impact be on the Buckeye economy? Find out at our 2020 Economic Summit,held in partnership with the Ohio Bankers League.
Seats are still available for the 11th annual Economic Summit, set for Feb. 12, 10:30 a.m. to 1:30 p.m. at the Greater Columbus Convention Center. Ohio REALTORS agents, brokers and owners will benefit from attending this program that attracts banking CEOs, senior management, commercial lenders, and bank small business owners. This is a valuable program where industry partners have an opportunity to connect.
The summit agenda includes a one-hour networking reception and luncheon and features an economic forecast from Lawrence Yun, chief economist and senior vice president of research at the National Association of REALTORS, and a regional analysis from one of Ohio's top economists, Regionomics' Bill LaFayette.
Yun will provide attendees the inside track on Markets, Mortgages and Recession Risk in 2020 and beyond. He'll reveal the direction of home prices in the next 12 to 24 months, offer an in-depth comparison with past housing cycles, as well as a detailed look at the future direction for business and government spending.
LaFayette will go region-specific by breaking down the state into six sectors before detailing 2020 economic prospects for each region. He will offer a detailed analysis of Ohio's outlook versus the national picture, as well as prospects for employment growth and distribution.
CLICK HERE for more information or to register!