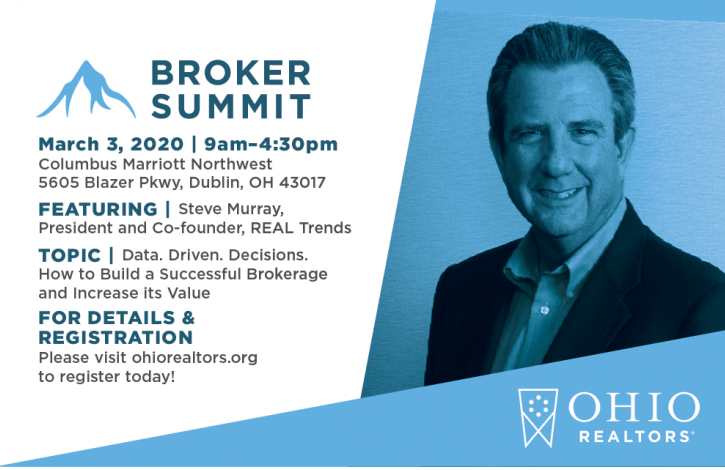 Ohio REALTORS Broker Summit features the industry's leading visionaries
Feb 4, 2020
Make plans today to secure a spot at the 2nd Annual Ohio REALTORS Broker Summit, a gathering of brokers, managers and owners from across the state networking and addressing the key issues and market trends impacting today's marketplace!
At the Broker Summit, set for March 3 at the Columbus Marriott Northwest, you will gain insight into critical business strategies and tools for successfully running your brokerage. The program features the industries leading visionaries including:
REAL Trends President and Co-Founder Steve Murray -- Data. Driven. Decisions. How to Build a Successful Brokerage and Increase its Value
NAR's Director of Digitial Engagement Nobu Hata -- Brokerage of Tomorrow, Today
Jess Biller, president of Paramount Consulting -- Recruiting and Selecting the Right Agents
Joseph Rand, Chief Creative Officer of Better Homes and Gardens Real Estate, Rand Realty -- How Brokers Fight Back: The Future of the Broker Value Proposition
Plus, your Ohio REALTORS' Chief Executive Officer Scott Williams, Chief Legal Counsel Peg Ritenour, and Chief Lobbyist Beth Wanless will get you up-to-speed on the legislative and regulatory issues you need to know!
New to this year's Broker Summit...for those coming into town the evening before the program, March 2, we'll be hosting a Networking Reception, 6-8 p.m. The reception, sponsored by Ohio REALTORS Broker Engagement Counsel, offers you the opportunity to build meaningful connections with fellow brokers.
The event, which includes 5.5 hours of real estate CE, is open to all real estate professionals. To secure your seat or for further details, CLICK HERE.