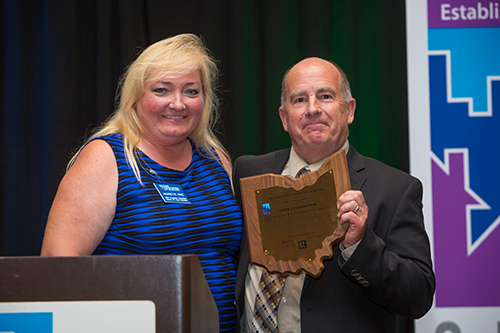 Dave Culbertson honored as OAR's 2015 'Community Service' recipient
Sep 24, 2015
REALTOR Dave Culbertson of Mt. Vernon was honored with the Ohio Association of REALTORS 2015 Excellence in Community Service Award.
The presentation of the award was made at the Association's Opening Session, a highlight of OAR's 105th Annual Convention, Sept. 20-22, in Columbus. Culbertson, who was nominated by the Columbus REALTORS, is associated with Real Living Home Team.
The Excellence in Community Service Award is presented to an individual REALTOR who has shown exemplary commitment to community service.
Culbertson was honored for his efforts in establishing the Arms of an Angel Foundation, a non-profit drug awareness outreach program created in loving memory of his son, Carl, who died of an accidental heroin overdose in 2009.
The purpose of Arms of an Angel is to reach out to students, young adults and parents to spread education and awareness of the heroin and opiate epidemic and other drug issues that have become a growing problem across Ohio and the nation. Arms of an Angel has become the lifelong ministry for the Culbertson family where, in the last six years, Dave has spoken to more than 15,000 young people on feeling good about themselves and the inner strength needed to help fight negative peer pressures related to drugs, as well as everyday life struggles.
With the stakes being so high and young people bombarded from all angles with negative and mixed messages, Dave's message is designed to not only reach their minds, but tug at their hearts.
Culbertson has also taken this message to many adult groups, including Rotary, Kiwanis and Exchange clubs in Central Ohio.
Arms of an Angel has developed and operated several Old Prescription Roundups and has been recognized for its efforts and passion. This Foundation also supports and works with a neighboring county's program "Together We Hurt, Together We Heal," and operates a Clean and Sober Fall Colors Poker Run fundraiser for Ohio motorcyclists every autumn.
In addition, Culbertson and the Arms of an Angel Foundation have been featured in an Ohio Department of Health video about Naloxone — a nasal spray that helps revive victims suffering from heroin or prescription drug overdose.
Arms of an Angel anticipates reaching out to more than 10,000 young people each year and plans to expand its services to provide transition housing and vocational and life-skills training to help recovering addicts stay away from their dealers and "triggers," and help them transition back into society in a productive way.
"It's not natural for parents to bury their children," Culbertson said. "If we can help prevent other families from going through what we went through, and are still going through, then we will help bring purpose to Carl's short life."
Culbertson currently serves on numerous anti-drug task forces, including the Governor's Opiate Task Force; the Attorney General's Drug Advisory Committee, Central Ohio Drug Enforcement Task Force, and the Knox County Substance Abuse Advisory Council.
Culbertson is available to speak to middle schools, high schools and church youth groups throughout the state. There is no charge for this service.
For more information on Arms of an Angel Foundation visit www.ArmsOfAnAngel.org.
The Ohio Association of REALTORS, with more than 28,000 members, is the largest professional trade association in Ohio.