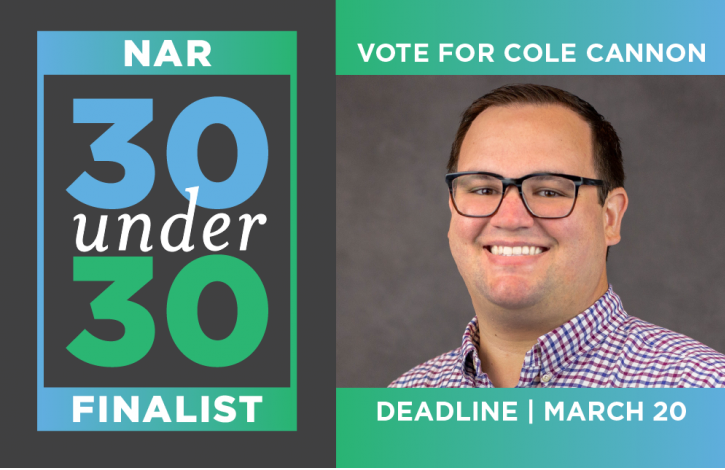 Ohio's Cole Cannon announced as NAR '30 Under 30' finalist!
Mar 13, 2020
Ohio REALTOR Cole Cannon has been named as finalists for REALTOR Magazine's prestigious 2020 "30 Under 30" class and needs your VOTE! Cannon, with Rolls Realty in Columbus, was included among the 50 accomplished real estate professionals that will be vying for a spot in the 2020 class of "30 Under 30."
Online voting for a finalist spot is open until 1 p.m. on March 20. CLICK HERE to help Cole secure a finalist spot -- you can vote once each day! Judges will select the other 29 honorees.
"It's fitting that in this special year -- 20 years after the first '30 Under 30' class was named in 2000 -- there are so many finalists involved in championing homeownership through political advocacy," notes REALTOR Magazine. "They have been a part of noble endeavors, such as revitalizing their communities, helping veterans become homeowners, supporting rural areas, and advocating for the real estate industry as volunteer leaders in their local and state REALTOR associations. The group of 50 expects a lot of themselves so as to provide exemplary service to their clients. They take the time to educate home buyers and sellers, carefully walking them through every step of the transaction. And when they're not working with clients, they're serving on REALTOR committees or creating welcoming, inclusive YPN groups.
Through the years, a number of Ohio REALTORS have earned inclusion in the prestigious "30 Under 30" class, including:
2000 -- Adam Kaufman, Woodmere
2001 -- Andrew Gaydosh, Dayton
2003 -- Nicole Yoder-Barnhart, Hilliard
2004 -- Mara Ackermann Klopfer, New Albany & Terry Zimmerman Jr., Bryan
2008 -- Jose Medina, Canton
2010 -- Jason Altobelli, Niles
2012 -- Scott Phillips, Cleveland
2017 -- Ryan Gillen, Dayton
2018 -- Rob Riddle, New Albany
2019 -- Rebecca Donatelli, University Heights