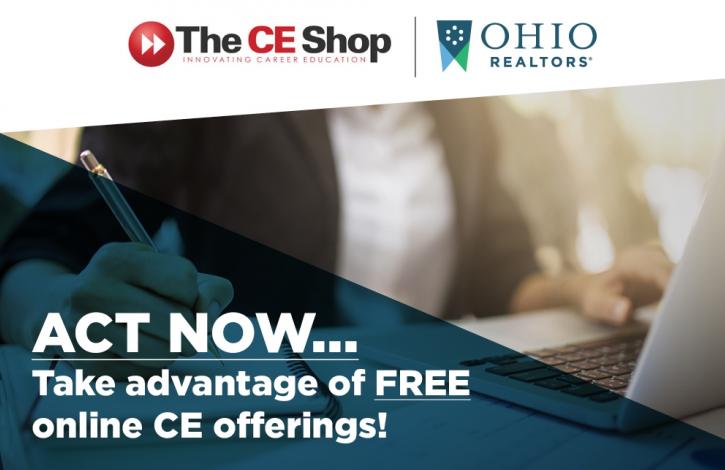 Ohio REALTORS and The CE Shop team up to offer complimentary online CE
Apr 14, 2020
To help support you and your real estate career during the COVID-19 pandemic, your Ohio REALTORS Leadership Team has agreed to partner with The CE Shop to provide you with FREE online CE. Ohio REALTORS will have complimentary access to the following online CE programs through April 30, 2020 (limited availability -- so act now).
Personal Safety
Attacks on real estate professionals have made headlines at an alarmingly more frequent rate in recent years. While the newsprint is still wet (and the internet still on fire) with these shocking stories, everyone vows to do better, and the topic of safety is pushed to the front of training schedules -- but then complacency soon sets in once again. That's something criminals count on.
This course reviews studies and statistics that are somewhat unique to the real estate profession, and the methods and practices that best promote personal safety.
Affordable Housing: Solutions for Homes and Financing
Affordable housing, or lack thereof, has been a discussion topic in the media, advocacy groups, and the political arena for years, and lately the chatter has become louder and more urgent. How bad is it? According to the leader of one housing coalition, "It's not a housing crisis. It's a housing catastrophe." In this course, we'll explore the impact that a lack of affordable housing has on individuals, families, and the real estate industry.
We'll explore largely untapped solutions to locate housing and secure financing, even for low-income borrowers with less-than-stellar credit and little to no down payment. And in three "Bringing it Home" lessons, we'll show how real estate professionals can become part of the solution for their clients and their communities.
Complying with the Canon: Ohio Real Estate Licensee Ethics
The course explores a licensee's ethical responsibilities to the public and the real estate industry. This includes specific rules and rulings provided by state statutes and administrative bodies as well as practical suggestions for maintaining compliance. The course closes with a section on the ethical duties to fellow licensees promoting mutual respect and professionalism for all Ohio professionals. This course meets the Ohio Core requirement for 3 hours of Ethics and meets the NAR REALTORS Code of Ethics Training Requirement. (NOTE: Complimentary access to this course is limited.)
CLICK HERE for additional information and access to the special promo codes needed to take advantage of the complimentary offerings.
Additionally, The CE Shop is offering a 40% discount off the remainder of their online continuing education courses through April 30, 2020. CLICK HERE to access the special Ohio REALTORS code and take advantage of this deep discount!