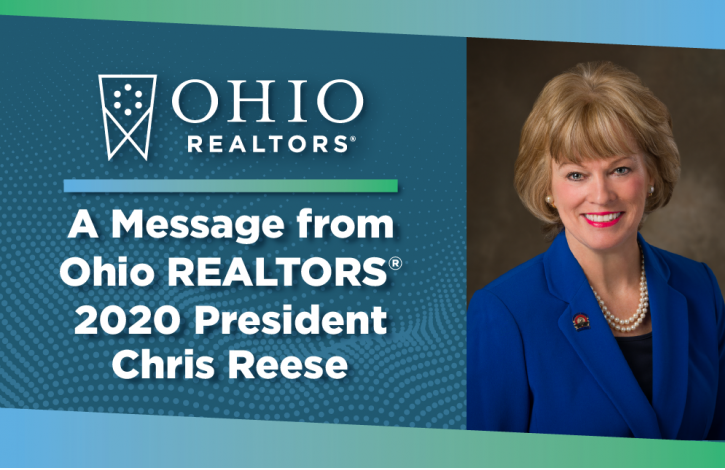 Ohio REALTORS President Reese provides recap of recent State President meeting
Apr 20, 2020
By Chris Reese, Ohio REALTORS President
Ohio REALTORS, I hope you are taking this time to care for yourselves, comfort your family and friends and reach out to your past clients. Many are organizing their businesses, taking on-line classes, learning new technology, and gearing up for what is ahead. With the pent-up demand right now, get ready, because we are going to be VERY BUSY...and with taking this time to grow and learn, I know we will come out of this even stronger!
Below is a summary of the call I had Friday between the state Presidents and National Association of REALTORS President Vince Malta. He discussed our national advocacy efforts, the Mid-Year Legislative meetings, NAR's Right Tools-Right Now, core standards, and other available resources:
NAR Mid-Year Legislative Conference – https://www.legislative.realtor/
Updated schedule online
Virtual Committee meetings – April 27–May 15 & Virtual Conference sessions – May 12-14
All attendees will need to re-register once a new platform launches next week.***
Some committee meetings will be open, invite only with guests, closed to members only, or have different portals to accommodate voting members vs. guests.
General meetings will be broadcast, streamed, Facebook live, and YouTube
**Suggested meetings to plan to attend - OHIO/MI Region 6 caucus, N.A.R. committee meetings, General Session, NAR 360, Regulatory Issues, Federal legislative and political forum, Real Property Valuation, State leadership Idea Exchange Council, Local leadership Idea Exchange Council, and the Board of Directors meeting.
Right Tools, Right Now - https://www.nar.realtor/right-tools-right-now
More than 62,000 members have taken advantage of free or significant discounts 250-plus products and services.
Offerings represent more than $6 million in revenues forgone by NAR to help members.
2020 REALTORS® Conference & Expo - https://www.conference.realtor/
New Orleans mayor recently talked about limiting festivals & concerts until the end of 2020. This does not include business conferences. We are still moving forward as scheduled at this time. Working with local & State authorities to discuss best practices and safety.
Core Standards – anticipated modifications
Suggested suspensions for the 6th cycle – Advocacy Vote, Act, Invest and Community Engagement -- https://www.nar.realtor/ae/manage-your-association/core-standards-for-state-and-local-associations/core-standards-resources
Clear Cooperation Policy 8.0
May 1, 2020 date still an expectation for compliance, this date is not extended. See FAQs here: https://www.nar.realtor/about-nar/policies/mls-clear-cooperation-policy
NAR Advocacy & Lobbying Efforts
NAR efforts have included letters, video calls, phone calls with the primary focus to make certain the independent contractor was included for eligibility in the CARES Act.
TEXT COVID19 to 30644 for Coronavirus Updates
PPP & EIDL SBA Loans -- processed 14 years' worth of loans in 14 days. $2 Trillion dollars, they are out of money. Will work through the weekend to add $250 Billion to this program. If applications were in, then first come first serve. Until funding is approved, no more applications will be accepted. Once more funding is approved -- independent contractors must provide a 1040 Schedule C and 1099-MISC for 2019 to prove average monthly net earnings. 2018 taxes are not allowed. The hope is new funding will encourage more SBA lenders to work with new clients since administrative costs are hefty. For more information: https://www.nar.realtor/political-advocacy/coronavirus-sba-cares-act-faqs
Pandemic Unemployment Assistance program -- rolled out in a few states. Department of Labor has published some guidance. 100 percent federal covered, fully administered by states. In some states you must first apply for regular unemployment and be denied prior to applying for this new program. States do analysis to see if a person is eligible then you get a weekly qualification amount + $600/week added. CLICK HERE for the latest news on Ohio's launch.
For information for on forbearance and resources: https://www.consumerfinance.gov/coronavirus/
STAY INFORMED BY VISITING www.ohiorealtors.org Regularly
USE OUR FREE TECH HELPLINE (877-562-3160) TO LEARN AND IMPROVE.