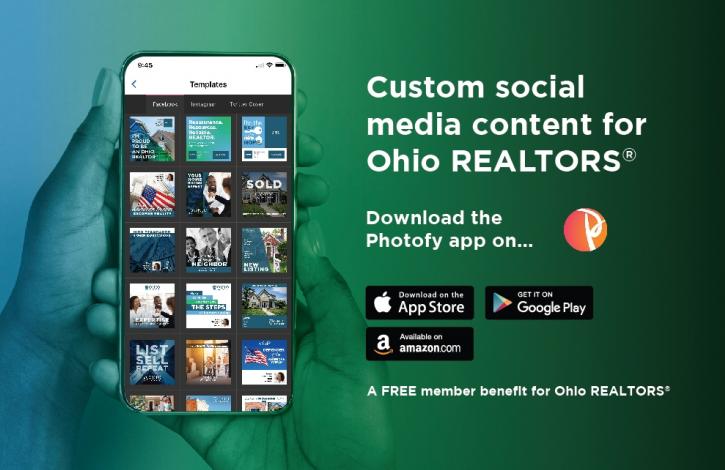 Boost your digital marketing & stay license law compliant with Ohio REALTORS' Photofy templates
Jul 23, 2020
By Allison Wiley, Ohio REALTORS Director of Digital Marketing
We are so thrilled to see many of you have taken advantage of the newest FREE member benefit, Photofy for Ohio REALTORS. Photofy gives you access to dozens of customizable, branded graphics to help you easily market yourself and your business—all from the convenience of your mobile phone.
We encourage you to use the more than 50 Ohio REALTORS Photofy templates we've made available for you to customize and brand as your own maketing message. Most importanly, the templates offered exclusively by Ohio REATLORS will ensure that you're marketing efforts are compliant with the Ohio license law. The Ohio license law prohibits an agent's name from being more prominent than that of a broker in any type of advertising, including our Photofy templates. We have worked hard to ensure all Ohio REALTORS Photofy templates are abiding by this law.
Once you join Photofy, you'll also gain access to an array of templates offered by the National Association of REALTORS. Please be advised that if you do use NAR-produced templates, you run the risk of violating Ohio law. NAR templates currently feature the agent's first and last name in bold and the company name unbolded. The Ohio REALTORS team has reached out to NAR to bring awareness to this issue and requesting that the current offering of NAR templates be modified. We'll keep you posted on any news we receive.
When downloading and opening the app the default homepage will be NAR's. We urge you to access the exclusive Ohio REALTORS account by tapping the "accounts" button in the lower center of the NAR Photofy home screen.
Join your peers across Ohio and gain access to unique marketing materials for Facebook, Twitter and Instagram by downloading the Photofy App on your smartphone today:
Register at Photofy.com/NAR
Fill out details and agree to terms
Select "Business Sign In"
Enter your "token" contact information
Your homepage will be NAR
Switch to Ohio REALTORS account by tapping

the "Accounts" Button at the bottom center of the app homepage and

tap Ohio REALTORS
Questions? Reach out to Allison Wiley - Ohio REALTORS Director of Digital Marketing - or call 614-225-6207.