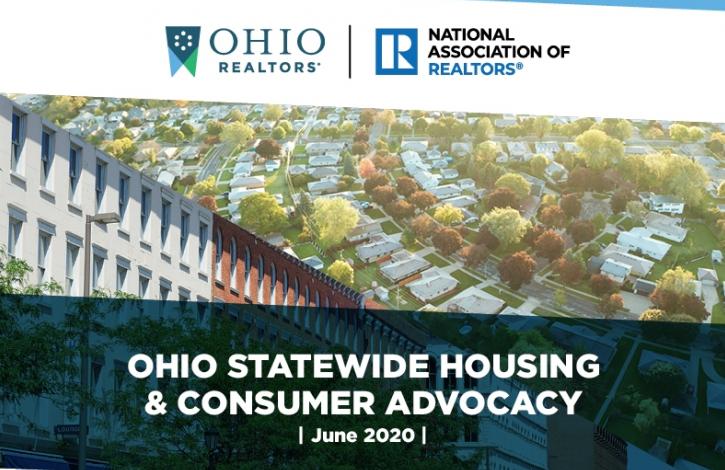 Ohio REALTORS survey reveals significant impact of COVID-19 on economy, housing
Aug 6, 2020
The impact of the COVID-19 pandemic on Ohio households was significant, with a comprehensive survey commissioned by Ohio REALTORS showing half of the state's families suffering economically due to job loss or a reduction in income.
The findings provide an ideal opportunity for the profession to work with key lawmakers and state stakeholders to find solutions to help bolster housing opportunities and strengthen the foundation of the real estate marketplace, notes Ohio REALTORS Chief Executive Officer Scott Williams.
"Notably, the survey confirms that two of our Association's top legislative priorities – passage of the industry-backed Senate Bill 139, the first-time home buyer savings act and emergency rental relief – are needed in today's environment," Williams said. "It's clear that many families are struggling, and both of these initiatives will provide critical, timely relief."
Ohio REALTORS, in partnership with the National Association of REALTORS, conducted the Ohio Statewide Housing & Consumer Advocacy survey to assess the views of the state's economic condition, the housing marketplace and the overall effect of COVID-19. The survey, administered by American Strategies from June 1-4, polled 824 adults and has an overall margin of error of plus/minus 3.7 percent.
Key findings include:
Ohio economy rated as just fair or poor. Seven-in-10 adults in Ohio say that economic conditions are either just fair (43 percent) or poor (27 percent). Only 4 percent rated current conditions as excellent, while 25 percent identified conditions as good. Women, younger residents and those who do not own their homes are most negative on economic conditions.
Most families have suffered economically because of coronavirus. Half (49 percent) of respondents said that they or someone in their immediate family has had their hours or pay cut in response to the coronavirus pandemic, while 39 percent said that someone has been laid off or lost their job. Nearly one-quarter (23 percent) said they have faced challenges paying their rent or mortgage due to the coronavirus outbreak. Younger residents are more likely to have experienced a coronavirus-related financial impact than their older counterparts.
Nearly half say rents are too high and three-in-10 believe cost to buy a home is too high. 45 percent of adults say that the cost to rent an apartment in their area of Ohio is too high. 30 percent said the cost to buy a home is too high, while 62 percent feel home costs are about right. Feeling on housing costs vary by area, but residents in the Columbus and Cincinnati areas are most likely to say both home prices and rents are too high.
Over a third of Ohioans feel strained by their housing expenses. 12 percent of residents say their rent or mortgage is a significant strain on their budget, and another 24 percent say their monthly housing payment is a slight strain on their budget (36 percent total). Strain correlates strongly with income, with households making $50,000 a year or less most troubled. Renters, non-whites and non-college residents feel most burdened, as more than half of these residents say that their rent or mortgage is a strain on their budget.
Despite bleak economic outlook, a majority feel it is a good time to buy a home in Ohio. 55 percent of respondents believe it is a good time to buy a home, while 40 percent say it is a bad time. White homeowners and high earners are most likely to see it as a good time to buy a home, while renters and Black residents are most likely to consider it to be bad timing.
Looking forward, Ohioans are split on whether housing costs will increase or stay about the same. Nearly as many Ohioans feel that the average price of houses in their area will increase over the next year (41 percent) as stay about the same (40 percent). Only 17 percent feel prices will decrease. Franklin County residents are most likely to predict increasing home prices, while the young and renters are most likely to predict a decrease. Adults feel similarly about rents, with 44 percent expecting rents to increase and 46 percent saying their will stay about the same. Just 6 percent say rents will decrease.
Residents generally pleased with their current living situation. On a five-point scale, nearly half (51 percent) rate their current housing as a 5 (the highest end of the satisfaction scale). Overall, the average rating is 4.1. Satisfaction increases with age and income level and is significantly higher among homeowners.
A fifth of Ohio residents were considering a move before the coronavirus outbreak; half changed their plans. When asked about plans to buy or sell homes, 21 percent of respondents said they were considering buying and/or selling a home in Ohio. Of those who planned to move, 48 percent said the pandemic caused them to change their plans.
Many looking for more space and distance as a result of coronavirus. Four-in-10 Ohio residents say they would prefer a larger yard or access to more outdoor space (26 percent strongly agree, 43 percent total agree) than they have now. Among those living in the suburbs and cities, similar numbers say they would like to move to an area with less people and more outside space than where they live now (25 percent strongly agree, 43 percent total agree). Overall, renters, younger residents and those with children in their homes express the most desire for more space.
Down payment and closing costs, low wages and student debt are the largest barriers to home purchases. Nearly four-in-10 (38 percent) say having enough money for a down payment and closing costs is a huge obstacle that makes buying a home too difficult or expensive, while another 33 percent see it as a medium-size obstacle. Down payment costs are particularly problematic for residents in the Dayton and Columbus areas. Similar numbers see having a full-time job but not making enough to afford a home as a huge (34 percent) or medium (34 percent) obstacle. Having too much debt from college and student loans is seen as huge obstacles for more than a third of respondents (37 percent), and a medium obstacle for another quarter (25 percent). Those without a college degree are more likely to cite low wages as a prohibiting factor in making a home purchase, while their college educated counterparts more frequently cite student loan debt as an obstacle to homeowners.
CLICK HERE for more findings from the Ohio REALTORS Ohio Statewide Housing & Consumer Advocacy survey.