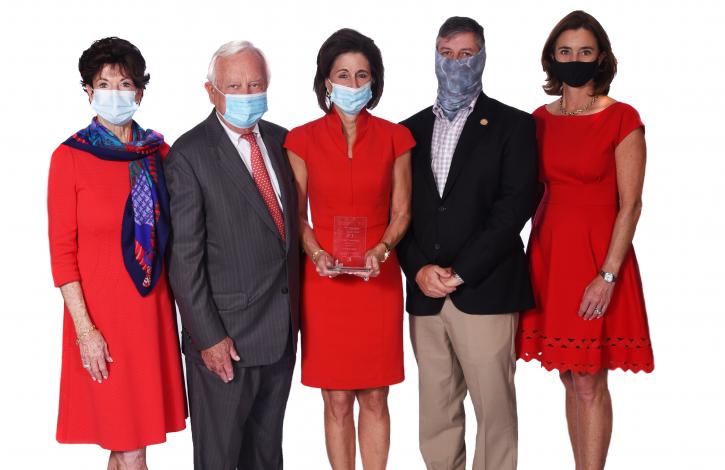 Julie Back claims top spot in 2020 President's Sales Club individual dollar volume category
Sep 28, 2020
Julie K. Back (center), of Sibcy Cline in Cincinnati, achieved the top spot in the Ohio REALTORS 2020 President's Sales Club in the individual dollar volume category. Pictured with Back (from left) Pam Sibcy, Rob Sibcy, Back, Ohio REALTORS CEO Scott Williams, and Robin Sheakley.
The Ohio REALTORS honors 3,861 members who attained status in the prestigious 2020 President's Sales Club. Since its inception, the Ohio REALTORS President's Sales Club has been the mark of distinction — for individual REALTORS and for teams — for superior sales achievement. The Association announced its "Top 5″ honorees in the individual and team categories for dollar volume and transaction credits during the Association's Awards Night Extravaganza, a highlight of its 2020 "Virtual" Convention, on Sept. 22.
Ohio REALTORS named the following as its 2020 "Top 5" in the individual dollar volume category:
Julie K. Back, Sibcy Cline, Cincinnati

Nicole Gulick, Reign Realty, Springboro

Karyl Morrison, Howard Hanna, Hudson

Rhonda Chambal, Irongate, Dayton

Jan A. McInturf, McInturf Realty, New Philadelphia
Back, who has claimed Ohio's top spot in the individual dollar volume category for the past four years (2017-2020), offered the following thoughts on her accomplishment:
Wow! I am honored to be given this award -- it was a huge surprise! I want to thank everyone from Ohio REALTORS for driving to Cincinnati to personally give me this honor. I am very touched with your thoughtfulness.

This award means a lot to me and it is a very high mark for my sales achievements.

I've been a REALTOR since 1994 and have loved every minute of it. We are in the best profession -- don't you think?

This year has been one we will never forget. Who would have thought most people would have to work from their homes and real estate would be named an "essential business?" This did indeed happen and I don't know about you, but I am ever so thankful for digital contracts and forms! Thank goodness real estate is already a digital business with websites, online flyers, social media, email and texts. We all tightened up the hatches and kept listings and sales going during this pandemic and we are still doing so.

It's incredible how "hot" real estate sales are now! Now, if only more people would sell their homes!

It's a challenging time to be a REALTOR right now. Although homes are selling quickly, it takes experience and know-how to keep our deals together and come to that closing table. We are working harder than ever -- but don't you find it rewarding to help people find their dream home or sell their old home so they can move on with their lives?

We are very lucky to work in a profession that makes such an impact on people. I feel good when I can help people. I hope you feel that way, too.
I would like to thank Rob and Pam Sibcy and Robin Sheakley -- our fabulous leaders at Sibcy Cline REALTORS. You three are constantly looking out for me and help to make all of us at the company the best in our profession. I am thrilled to be part of your team!
I would also like to thank my office in Hyde Park. They are always there for me. We help each other out -- pandemic or not.
2020 has been a strange year so far, but it has also been a wonderful time for me in real estate sales. I feel very blessed to say that and I hope all of you have your best sales year ever in this upcoming year. Here's looking forward to 2021! Thank you again for this honor.
Ohio REALTORS, with more than 33,000 members, is the largest professional trade association in Ohio.