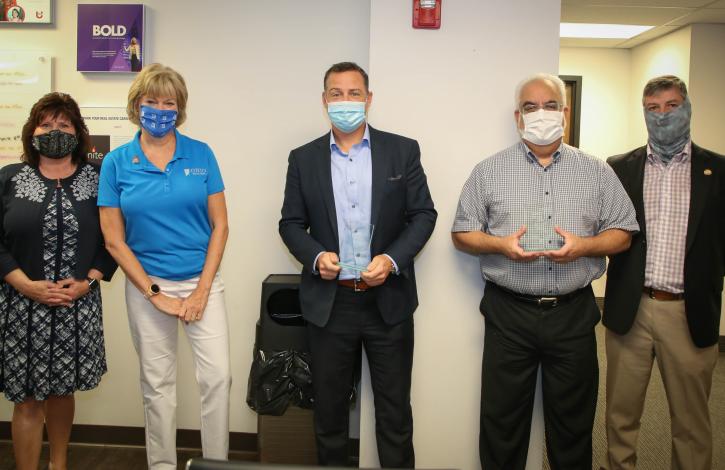 The EZ Sales Team claims top spot in both 2020 President's Sales Club team categories
Sep 30, 2020
(From left) Sandy Naragon, CEO of the Akron Cleveland Association of REALTORS; Chris Reese, president of Ohio REALTORS; and Ohio REALTORS CEO Scott Williams, far right, present the Ohio REALTORS 2020 President's Sales Club top awards in both the team dollar volume and transaction credit categories to (center) Greg Erlanger and Mike Zinicola, of The EZ Sales Team, Keller Williams Citywide in Cleveland.
The Ohio REALTORS honors 3,861 members who attained status in the prestigious 2020 President's Sales Club. Since its inception, the Ohio REALTORS President's Sales Club has been the mark of distinction — for individual REALTORS and for teams — for superior sales achievement. The Association announced its "Top 5″ honorees in the individual and team categories for dollar volume and transaction credits during the Association's Awards Night Extravaganza, a highlight of its 2020 "Virtual" Convention, on Sept. 22.
Ohio REALTORS named the following as its 2020 "Top 5" in the team dollar volume category:
The EZ Sales Team, Keller Williams Citywide, Cleveland
The Incorvaia Team, Keller Williams Elevate, Cleveland
Jose Medina & Associates, Keller Williams Legacy Group, Canton
The Crockett Team, Howard Hanna, Mentor
Ferrante Team, Re/Max Edge Realty, Canton
The following achieved "Top 5" in the team transaction credit category in 2020:
The EZ Sales Team, Keller Williams Citywide, Cleveland
Jose Medina & Associates, Keller Williams Legacy Group, Canton
Ferrante Team, Re/Max Edge Realty, Canton
The Incorvaia Team, Keller Williams Elevate, Cleveland
The Michael Kaim Team, BHHS Professional Realty, Mentor
Greg Erlanger and Mike Zinicola, who head The EZ Sales team, offered the following thoughts on their accomplishment:

Greg Erlanger: First we all need to thank Gov. Mike DeWine for his belief that REALTORS are essential. That wisdom allowed homeowners to buy larger homes and let go of ones they might not be able to hold on to during this time. Many states were not as lucky as we were. I want to thank Ohio REALTORS for not just letting go of this great tradition and fighting through this pandemic. It showed great leadership and, in a way, mirrored our efforts as a sales team in 2020 to achieve these high honors. In March we made a decision, not to go into hiding but to work harder and fight for our career. While others said there was no way to sell homes, we dug into our innovations and tech to make it safely happen.
When I became a REALTOR in 2004 I said I wanted to be Ohio's #1 REALTOR. My faith, family, partnership and team made that dream a reality. It has been said; "if you want to go fast, go alone. If you want to go far go together." Our team is a true team with different skills and abilities that compliment. Basic division of labor that all works in harmony. No one or two people made this happen. We have the best group of REALTORS, admins, coaches and leaders assembled anywhere in the country. They all work together, care for one another and have a common goal. Our client-first philosophy and focus on doing real estate right has allowed us to achieve our success.
Thank you so much for these awards and let's STAY ESSENTIAL!
Mike Zinicola: This is the fifth year we have received one or both of these awards. However, this year's awards are extra special for us. In March when we knew the state was going to shut down, we hoped to become essential workers to keep our business going. Thank you to Ohio REALTORS for working so hard to make that happen. But even when we became essential, there was so much fear and unknowns, we knew we had to dig deep to move forward. Through a combination of virtual tools/technology, the creation of safety protocols to make both clients and agents comfortable with the home buying process, and strong leadership, we were able to move forward. Just because the pandemic hit, that didn't mean that people didn't have home selling/buying needs.
The award is for the Number One Team. Greg and I are the face of the EZ Sales Team. But the Team received this honor because of the hard work of our amazing agents, administrative staff, coaches and leaders who worked diligently during the beginning of the pandemic to ensure we could help our clients who needed to buy and/or sell. The culture of our team, where we all help one another grow, is one important key to our success.
When Greg and I formed the team, our initial premise was to build a team that always put the clients first. This is not lip service. We have policies in place that evidence this premise. Building our business around the idea that the client's interest always comes first is absolutely the number one of many reasons for our success.
Thank you, Ohio REALTORS, for all of the efforts that go into giving out these awards to recognize productivity and success. We know many states do not do this. This is a true honor to be recognized in this way.
Ohio REALTORS, with more than 33,000 members, is the largest professional trade association in Ohio.