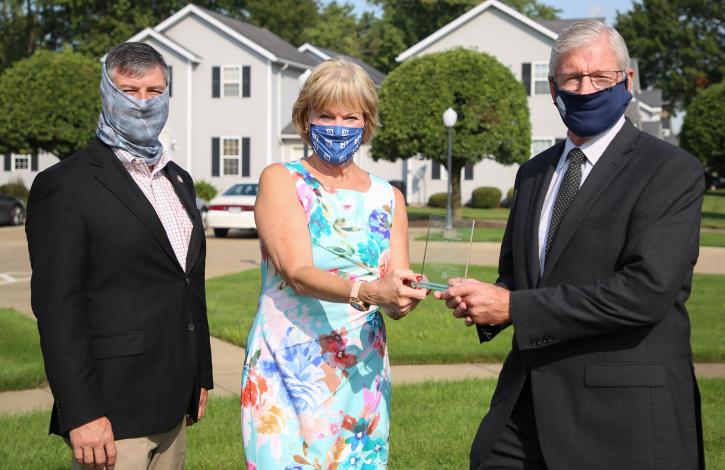 Jan A. McInturf earns top spot In 2020 President's Sales Club individual transaction credit category
Oct 1, 2020
Jan A. McInturf (far right), of McInturf Realty in New Philadelphia, achieved the top spot in the Ohio REALTORS 2020 President's Sales Club in the individual transaction credit category. Pictured with Back (from left) Ohio REALTORS CEO Scott Williams and President Chris Reese.
Ohio REALTORS honors 3,861 members who attained status in the prestigious 2020 President's Sales Club. Since its inception, the Ohio REALTORS President's Sales Club has been the mark of distinction — for individual REALTORS and for teams — for superior sales achievement. The Association announced its "Top 5″ honorees in the individual and team categories for dollar volume and transaction credits during the Association's Awards Night Extravaganza, a highlight of its 2020 "Virtual" Convention, on Sept. 22.
The following were recognized by Ohio REALTORS as the 2020 President's Sales Club "Top 5" in the individual transaction credit category:
Jan A. McInturf, McInturf Realty, New Philadelphia

Rhonda Chambal, Irongate, Dayton

TJ Zimmerman, Carlin Real Estate & Auction, Bryan

Nicole Gulick, Reign Realty, Springboro

Melissa Palmer, Real Living Brokers Realty Group, Warren
McInturf offered the following thoughts on his accomplishment:
I am very proud to have received this award. I really didn't think I could achieve the "Top Spot" in individual sales transactions due to living and working in a more rural area. New Philadelphia and Dover make up a population of approximately 35,000 people and Tuscarawas County 100,000 people. This award is truly a defining moment for my 36-year career in real estate.
I feel honored that Chris Reese, our Ohio REALTOR President and her leadership staff came all the way from Columbus, along with Mike Sulek, our East Central Association of Realtors Board President, to surprise me here in New Philadelphia.
I want to thank my entire family for their never-ending support and patience through my journey as a REALTOR. I'd like to recognize and thank the agents and staff of McInturf Realty and our partners at Don R Wallick Auctions. And I need to thank my support staff, Amy Stucin and Debbie Cummings as they keep me on task every day.
And, of course, this wouldn't have happened without my wonderful clients, many of whom have stuck with me throughout my career, sending their children and now, even their grandchildren to me with their real estate needs. How quickly time flies... how old I am!
I truly feel blessed to live and work here in beautiful Tuscarawas County, Ohio…to have found my passion in real estate…this business has been and continues to be a rewarding career. I believe you get out of it what you put into it and by making our clients' and customers' interests our own, we all win!
Ohio REALTORS, with more than 33,000 members, is the largest professional trade association in Ohio.