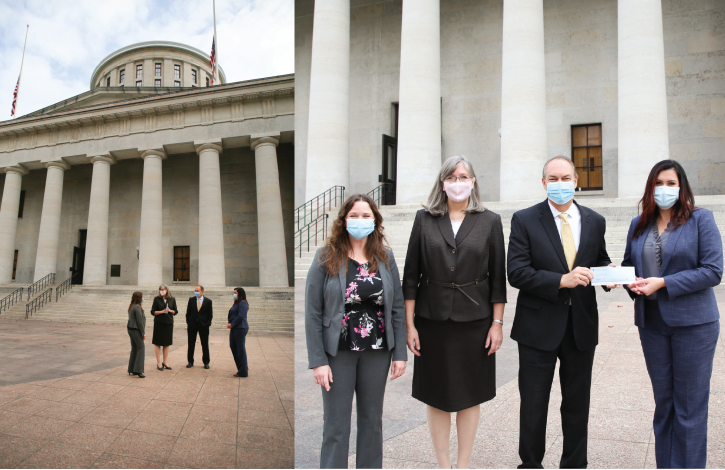 REALTORS present Community Rebuilding Grant to repair damage to the Ohio Statehouse
Oct 26, 2020
(Left) Ohio REALTORS Assistant Vice President of External Affairs Carrie Arblaster and (right) Beth Wanless, Director of Government Affairs, present a $5,000 Community Rebuilding Grant to Laura Battocletti, executive director of the Capitol Square Review and Advisory Board, and Ohio Sen. Bob Peterson.
Ohio REALTORS, in partnership with the National Association of REALTORS, presented a Community Rebuilding Grant to the Capitol Square Review and Advisory Board to help with graffiti cleanup at the Ohio Statehouse. The Statehouse experienced more than $158,000 in damage earlier this year.
"Ohio REALTORS are leading advocates in helping to build communities and we're thrilled to have an opportunity to make a meaningful difference in helping to revitalize and restore the damage that occurred to our state capitol building," said Ohio REALTORS Chief Executive Officer Scott Williams. "The Ohio Statehouse is a special place for all Ohioans and, on behalf of Ohio REALTOR family I'm thrilled that NAR partnered with us to provide needed funding to repair the people's house.
The NAR Community Rebuilding Grant was announced earlier this year, allowing REALTOR Associations to help lead efforts to rebuild public community places that were impacted by the racial injustice demonstrations that took place throughout the nation. REALTOR Associations could apply for upwards of $3,000 from NAR and Ohio REALTORS contributed an additional $2,000. The Ohio REALTORS Public Policy team of Carrie Arblaster, assistant vice president of external affairs, and Beth Wanless, director of government affairs, presented a $5,000 check on Oct. 26.
"The Ohio Statehouse is the center of state government for the people of Ohio," said Sen. Bob Peterson, Vice Chair of Capitol Square Review and Advisory Board (CSRAB). "For more than 150 years, Capitol Square has been an important and historic place for Ohio citizens to participate in public life, and we were all saddened to see the vandalism that occurred to this beautiful building."
"We thank the Ohio REALTORS for contributing and maintaining the Ohio Statehouse for the people of Ohio, now and for the future."
Ohio REALTORS, with more than 34,000 members, is the state's largest professional trade association.