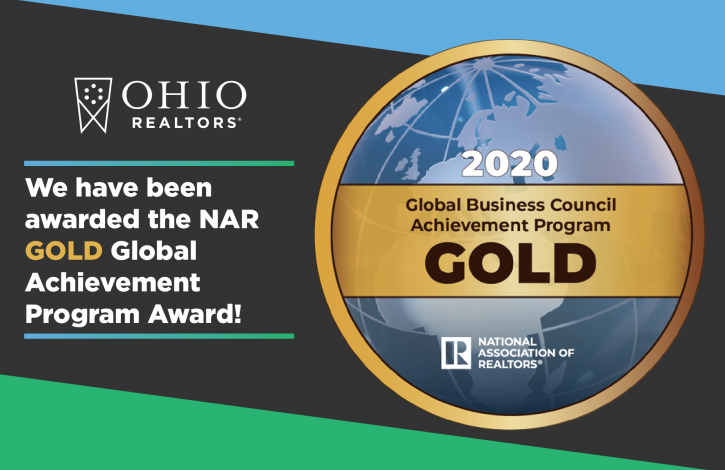 Ohio's Global Business Alliance receives national recognition for third consecutive year
Nov 4, 2020
By Carrie Arblaster, Ohio REALTORS Assistant Vice President of External Affairs
The Ohio REALTORS Global Business Alliance has been awarded Gold Global Achievement Program Award by the National Association of REALTORS. This marks the third consecutive year Ohio has attained national recognition and is an upgrade from the silver status it previously achieved.
Our work as a Council was recognized during NAR's 2020 REALTORS Conference today.
NAR's selection group, comprised of 12 NAR staff from a variety of teams, "determined that (Ohio's) council has demonstrated a solid level of service to its global members throughout 2020.
"Continue the hard work from this year to keep providing your members with the award winning level of global outreach, education and awareness that they received in 2020," NAR added.
As a young Council we are incredibly excited to be recognized by NAR three years in a row and thrilled that we upgraded our status to the Gold Award in 2020. The work of the Ohio Global Business Alliance should not be understated, as our Committee members and REALTORS around the state continue in their work to position Ohio REALTORS as the leading voice on international investment and property transactions.
The Ohio REALTORS Global Business Alliance is committed to growing its presence within our membership and throughout the state. If you are interested in working on the Committee or earning your Certified International Property Specialist (CIPS) designation please send me an email for more information.