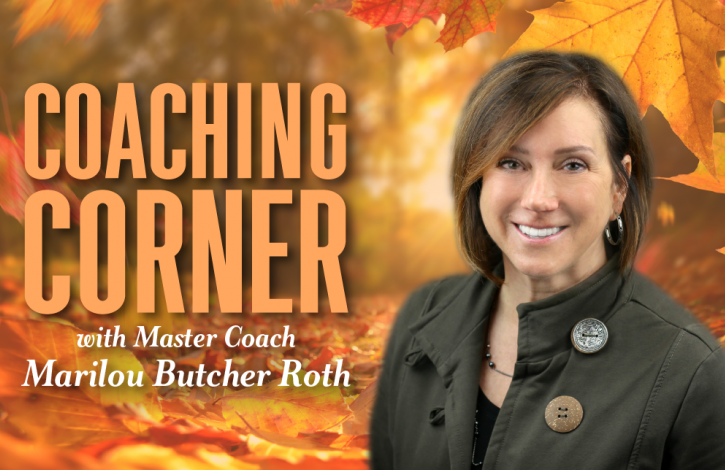 Coaching Corner: Going with the flow!
Nov 6, 2020
By Marilou Butcher Roth, Master Coach
As you know, we are currently waiting to hear who the next President of our country will be. Don't worry, this is not going to be a political post! What I do want to talk about is how you personally handle yourself and your life when you are dealing with the unknown. The unknown can be unsettling, and sometimes downright scary!
I clearly remember when one of my sons was undergoing tests to determine the severity of his cancer. There are no words that can describe the anxiety that was coursing through my body during this period. Needless to say, I didn't do my best at staying centered. It didn't take too long before I realized that if I was to be his main support system, I had better get my own stuff together...and quickly.
The shift occurred when I allowed myself to face fully into what I was fearing the most -- losing my son! I gave myself the space and quiet to let my mind go to a place that no mother wants to go, bringing big waves of tears along with it. Once I gave into the fear, I felt such a sense of relief, no longer feeling the hold the unholy unknown had on me, just moments before.
During uncertain times, it is very normal to go numb, or clench up, without knowing what may impact our lives. Not the best idea! Life is good! Regardless of what is happening around us, we have the ability to be fully present, knowing that life is constantly changing. Face into any fears, breathe full deep breaths, consciously intend to find those bright spots -- no matter what!
Here's to us!
Marilou Butcher Roth is the owner of The MBR Group, a coaching and training company working primarily with REALTORS who have a desire to work and live from a more inspired place. She is also the Broker/Owner of Group REALTORS in Cincinnati. Marilou is a member of the Ohio REALTORS Board of Directors and past chairman of the organization's Communications Committee. Feel free to contact Marilou to see if coaching is right for you.