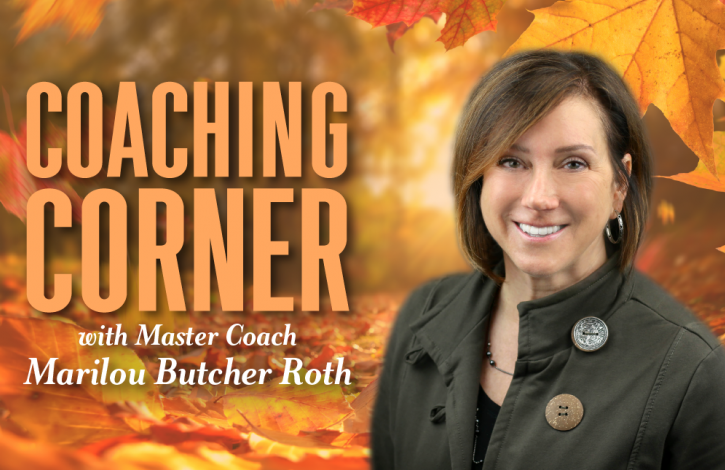 Coaching Corner: But I can't do it the way I want!!!
Nov 13, 2020
By Marilou Butcher Roth, Master Coach
During the past few months, and especially as we get closer to the holiday season, I continue to hear discontent from some, expressing lament over things they cannot do. I get it! This has been a challenging year for all of us, and clearly it is carrying over into 2021.
But let's get back to the idea of things we cannot do. If this is your point of focus, I guarantee life will become increasingly more challenging. Yes, there are limits right now that, trust me, none of us care for. And, there have also been many wonderful things that have come out of this time.
We are rapidly approaching the holiday season, ala COVID-19. Eek! Each person, and family, gets to decide how they will participate (or not) with these special days. My point today is to gently ease your focus onto what you CAN do, rather than not.
At our home, we have chosen to not do our typical 30-person Thanksgiving celebration. It was a trying decision, and bottom line, we cannot have just a few "chosen" people. We value everyone that comes to celebrate with us, and leaving any of them out is not an option. Everyone is doing their own small version of Thanksgiving for this year, and we are all fine.
In our blended family, we also celebrate Hannukah and Christmas. Although I haven't arrived yet on how we will do Christmas, I am excited about our Hannukah plans. We have scheduled a set time to celebrate. As normal, I will make the brisket. On the day we have chosen, I am dropping off brisket, latkes, menorahs with candles and gifts for the little guys to each of our children's homes. They will make whatever side dish makes them happy and then at 6 p.m. we will Zoom our candle lighting, etc. and share our food together. It's not our norm, obviously, but I guarantee it will be remembered!!!
What can you do to make this holiday season special and fun? Ideas are welcome!!
Marilou Butcher Roth is the owner of The MBR Group, a coaching and training company working primarily with REALTORS who have a desire to work and live from a more inspired place. She is also the Broker/Owner of Group REALTORS in Cincinnati. Marilou is a member of the Ohio REALTORS Board of Directors and past chairman of the organization's Communications Committee. Feel free to contact Marilou to see if coaching is right for you.