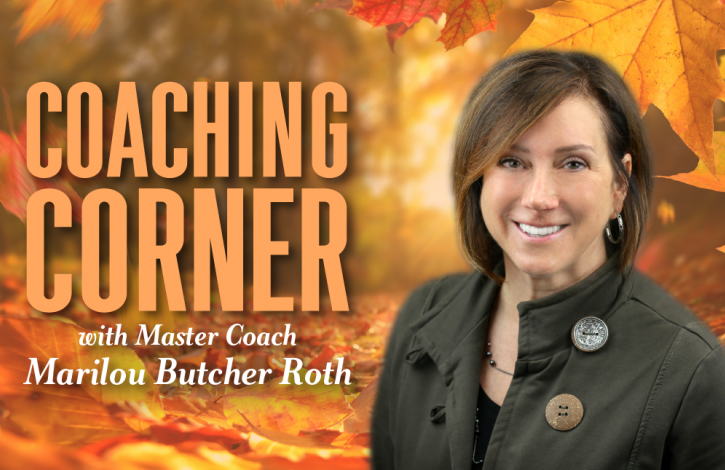 Coaching Corner: Clean up!
Nov 20, 2020
By Marilou Butcher Roth, Master Coach
This has been a day where I cannot get the children's song "Clean up, clean up, everybody do their share, clean up clean up, everybody, everywhere," out of my head. Surely that has happened to you -- well perhaps not that exact song!! It is most probably my own fault as I have been going through drawers and closets, realizing I have way too much stuff for my own good! And, surely this has happened to you as well!
This time of year is so perfect to examine your personal space and see what works and what doesn't, in eager anticipation of going into the new year with a clean physical environment. This may be your home, your car, or your office. Have you noticed how many storage unit facilities there are now? I remember when there was one close by, and now they seem to be popping up on every corner. What does that tell you? What is so important that you spend money to move things you don't need to a separate place? I'm not trying to be mean to those of you who have storage units -- I realize there are situations where they are necessary.
This is a topic that I tend to hit on at some point toward the end of each year, mainly because I have found how much I appreciate getting rid of unwanted items, and enjoying the spaciousness this process provides. It can be challenging sometimes I know. Many of my clients have relayed their personal stories of how their business opened up once they cleaned out their files. Now, I cannot give you any rationale as to how or why this happens, even though I have seen it happen frequently.
Be easy with this. Start small -- just a drawer perhaps. It seems everyone I know has a junk drawer of some kind in their kitchen, that catchall place that loads up quickly. That might be a great place to begin.
Any way you jump in will be fine. And perhaps you might find yourself humming that same tune of "clean up, clean up………"
Marilou Butcher Roth is the owner of The MBR Group, a coaching and training company working primarily with REALTORS who have a desire to work and live from a more inspired place. She is also the Broker/Owner of Group REALTORS in Cincinnati. Marilou is a member of the Ohio REALTORS Board of Directors and past chairman of the organization's Communications Committee. Feel free to contact Marilou to see if coaching is right for you.