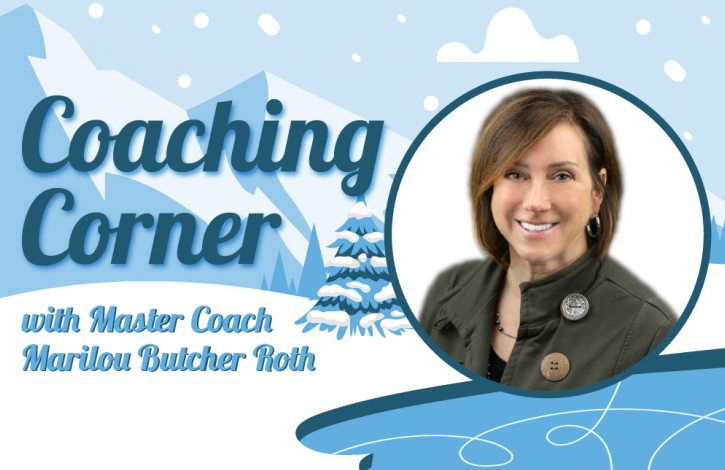 Coaching Corner: Happy New Year!
Jan 8, 2021
By Marilou Butcher Roth, Master Coach
Happy New Year! Yay! We have eagerly moved into a new year that will hopefully bring us more health, prosperity and joy! Now if you have been reading my blog posts over the years, you have seen my position on making these sometimes (and sometimes not) well thought out goals or intentions at the onset of a new year.
It has been clear to me for years that most people fall short of their desired outcomes for the year and this has continually piqued my interest. Why? What happens to that initial burst of excitement? I saw this year after year when I taught aerobic dance at the YMCA many years ago -- that first session would be filled and then...you could watch as the crowd thinned within the first month. I could say they didn't like the class, but it only happened the first of each year!
Recently, I read an article in Forbes, examining the ritual of making new years resolutions, "and their strong chance of failure." According to the article (From Dec. 27 if you want to look it up), 64 percent of resolutions are abandoned after one month! They further add that "Nearly two-thirds of our goals will be long forgotten after just four weeks." Yes! This is what I have always seen, so I kept reading.
The very first bit of advice on creating lasting resolutions from this article was about having your goals/intentions stemming from your values. WooHoo! Now they are really talking my language! They also hit on "shoulds," which is one of my very favorite topics. So let's break this process down and, to help, we've provided links to hands-on tools to help you with this activity.
OK, so first, CLICK HERE to identify your top values. Start as big as you need to, and then continue reducing the list to no more than five values. They are what guides you throughout your life, they are that important.
Next, CLICK HERE to identify what you WANT! Please, please notice if this is truly a desire, or if it has found its origin within a "should" -- either a societal should or a familial should. I always say "don't should on me and I won't should on you!"
Once this piece is complete, notice if your desires are tied to the values you identified. You want them to line up for satisfactory accomplishments.
Marilou Butcher Roth is the owner of The MBR Group, a coaching and training company working primarily with REALTORS who have a desire to work and live from a more inspired place. She is also the Broker/Owner of Group REALTORS in Cincinnati. Marilou is a member of the Ohio REALTORS Board of Directors and past chairman of the organization's Communications Committee. Feel free to contact Marilou to see if coaching is right for you.