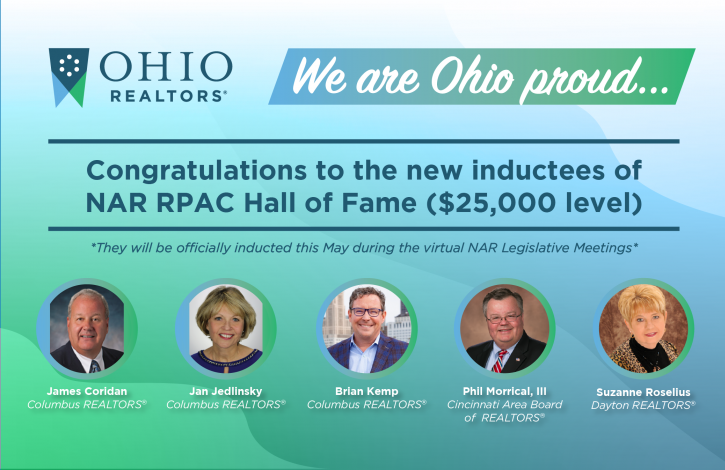 Five Ohio REALTORS to be inducted into NAR's RPAC Hall of Fame
Feb 23, 2021
By Stephen Ciacchi, Ohio REALTORS Director of RPAC & REALTOR Party
Ohio REALTORS is proud and eager to congratulate the state's newest National Association of REALTORS RPAC Hall of Fame inductees. The 2021 Hall of Fame class features:
James Coridan -- Columbus REALTORS
Jan Jedlinsky -- Columbus REALTORS
Brian Kemp -- Columbus REALTORS
Phil Morrical, III -- Cincinnati Area Board of REALTORS
Suzanne Roselius -- Dayton REALTORS
The 2021 class, which will be inducted in May during the NAR's Virtual Legislative Meetings, joins a prestigious group of fellow REALTORS from across the state and nation that have gone above and beyond in demonstrating leadership and commitment to advancing the interests of the profession and protecting property rights.
Congratulations to our 2021 NAR Hall of Fame inductees!