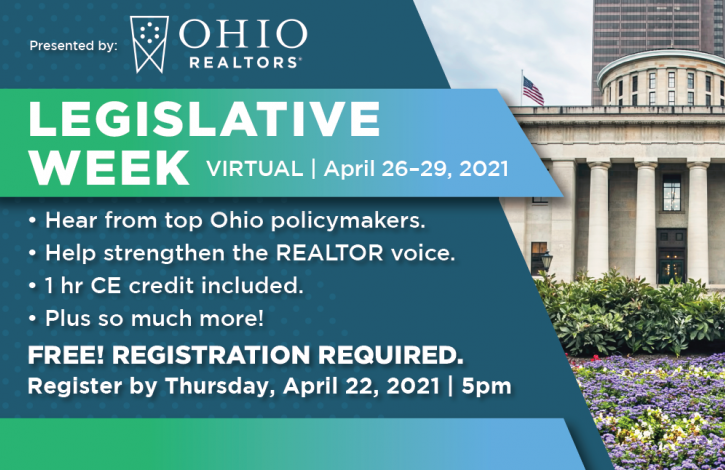 Make your voice heard...Register for Ohio REALTORS Legislative Week!
Mar 15, 2021
Make plans to be a part of the Ohio REALTORS Virtual Legislative Week, set for April 26-29, featuring the state's leading policymakers and political experts.
This FREE event will entail a number of exciting programs throughout the week, allowing you to hear directly from leading voices in the Statehouse and across Ohio on issues important to REALTORS and property owners.
Registration is required…CLICK HERE to secure your spot!
Programming for our Legislative Week includes:
Monday – April 26:
9-9:30 a.m. -- A "Coffee and Conversation" session with legislators on the Ohio First-Time Homebuyer Savings Act;
10-10:30 a.m. – A "Coffee and Conversation" program with legislators on the Ohio Fairness Act and Discriminatory Covenants.
Tuesday – April 27:
8:30-9:30 a.m. – 1 Hour CE session featuring Carrie Arblaster, Veronica Cardello and Beth Wanless from the Ohio REALTORS External Affairs team;
10-10:30 – An update from Ohio Division of Real Estate Superintendent Anne Petit;
1-1:30 p.m. – Ohio Secretary of State Frank LaRose will serve as our keynote presenter, discussing the state's redistricting plans and more;
2:30-3 p.m. – JobsOhio Chief Executive Officer J.P. Nauseef will provide a look at Ohio's new innovation districts and the state's economic outlook.
Wednesday – April 28:
8:45-10:20 a.m. -- Conversations with the Republican and Democratic Leadership of the Ohio Senate and House;
10:30-11 a.m. – The Ohio Republican Party has been invited to discuss the current political landscape;
11-11:30 a.m. – Ohio Democratic Party Chair Liz Walters will provide a political outlook.
Thursday – April 29:
9-9:45 a.m. – We will host a panel of experts, including Phil Cole of the Ohio Association of Community Action Agencies and others, discussing pandemic rental assistance initiatives;
10:30-11 a.m. – A "Coffee and Conversation" session with legislators on Workforce Housing Supply.

Don't miss an opportunity to secure a spot for this timely, informative and FREE "Legislative Week" -- which includes 1 hour of continuing education credit. CLICK HERE for a complete rundown of the event.
CLICK HERE to register! Deadline is Thursday, April 22 at 5 p.m.