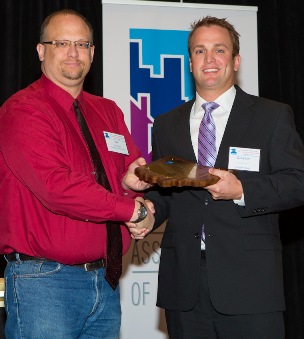 Clayton Davis honored for 'Community Service'
Oct 11, 2012
The 2012 Excellence in Community Service Award was given to Columbus REALTOR Clayton Davis, of Continental Realty, during the recent OAR Convention & Expo. In the photo...Davis (right) is congratulated by OAR Communications Committee Chairman Toby Boyce.
Davis was honored for his role in founding the Columbus Chapter of Barrier Breakers, a diverse group of young professionals and students that have partnered with Goodwill Columbus to support their mission of empowering people with disabilities and other barriers.
Since 2008, Barrier Breakers has provided support in the areas of education, recreation and social activities. They also provide activities, such as fun night, professional development programs, fundraising and planning sessions, and networking events, to encourage confidence and self-esteem.