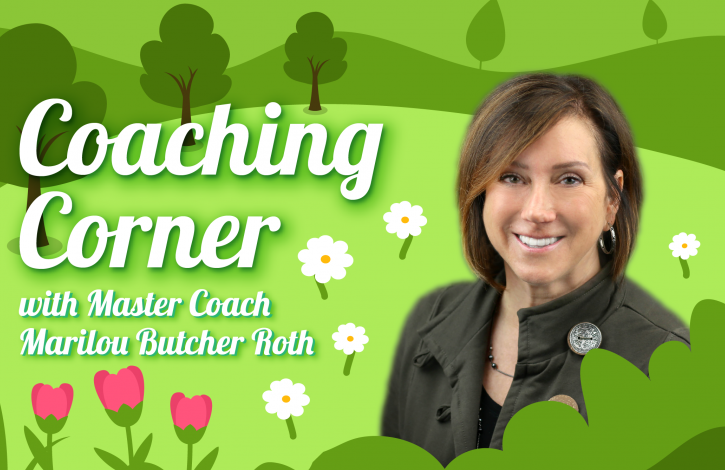 Coaching Corner: Oh happy day!
May 21, 2021
By Marilou Butcher Roth, Master Coach
Today is my oldest set of twins' birthday -- their 44th birthday actually. Each time I allow myself to think of the magnitude of this number, I have to laugh. It truly seems like yesterday when these two amazing humans came into my life! Yes, perhaps I am being a bit self-indulgent, and yet, there is a point to this story. The thoughts that have come forth around this continue to expand and I do feel it is worth sharing.
Having my oldest two turn 44 makes me realize my own age. Let's all face the fact that each day we are getting older. No, I am not intending to be morose, it is a fact. It can be a fact that is disturbing, or you may not pay a bit of attention to this particular topic. Either way is fine, let's keep going.
What are those things that are important to you to accomplish during your time on this earth? Let's call them deathbed goals for the sake of clarity. And, again, don't tune this out just because the idea of not being here is too disturbing. Hang with me! The idea is to identify those incredibly important items that allow you to feel complete before you move on.
One of mine is to get a book published -- at least one! What about you? Perhaps you want to view this as your bucket list -- all good! -- however it feels best to you. So, what is on your bucket list? Give it some thought, imagining looking back on your life, and identifying what needs to happen for you to feel completely fulfilled. Ah yes! There is no right, no wrong, and certainly no competition. This is all yours, and it doesn't even have to be shared.
Take some time with this one, and enjoy the process. And, I will enjoy celebrating my men -- oh happy day!!
Marilou Butcher Roth is the owner of The MBR Group, a coaching and training company working primarily with REALTORS who have a desire to work and live from a more inspired place. She is also the Broker/Owner of Group REALTORS in Cincinnati. Marilou is a member of the Ohio REALTORS Board of Directors and past chairman of the organization's Communications Committee. Feel free to contact Marilou to see if coaching is right for you.