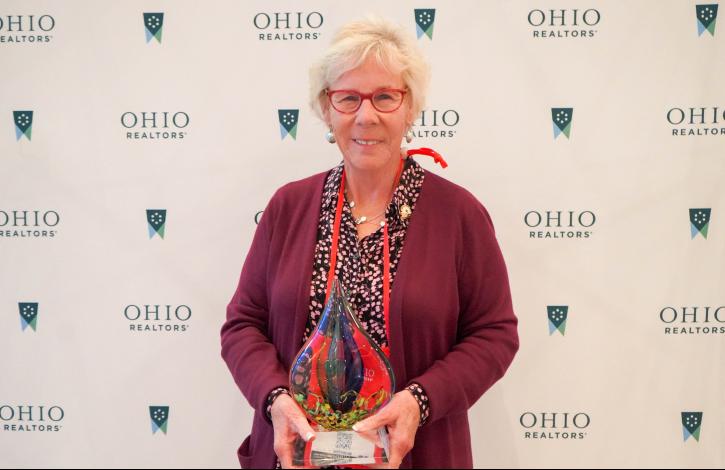 Sue Lusk-Gleich receives Ohio REALTORS 2021 Mary L. Pollock Lifetime Achievement Award
Oct 5, 2021
REALTOR Sue Lusk-Gleich, of Columbus, was honored with the Ohio REALTORS 2021 Mary L. Pollock Lifetime Achievement award.
The award, now in its third year, is presented to a deserving Ohio REALTOR who has gone above and beyond the call of duty on behalf of the profession – someone who performs the hard, necessary work to move the organization forward without seeking the accolade or spotlight.
The announcement of Lusk-Gleich's selection was made at the Ohio REALTORS 111th Annual Convention & EXPO, in Columbus, September 27-29.
Sue has devoted much of her time for the advancement of the REALTOR profession and Ohio's REALTOR community – she served as a member and in leadership of many committees at Ohio REALTORS, including RPAC Trustees, Scholarship and DSA. She was inducted to both the Ohio Hall of Honor and the NAR Hall of Fame in 2019.
She has served as president of the Columbus REALTORS in 2010 and won the Phillip R. Barnes RPAC Achievement award in 2019. She also won the Distinguished Service Award in 2016 and has been instrumental in shaping the vision of the highly successful Ohio REALTORS Leadership Academy.
On the national level, Lusk-Gleich has contributed to RPAC at the Platinum R Major Investor Level and as a Golden R for many years. She also served as a NAR Director for three years and has served on the NAR RPAC Trustees Federal Disbursement Committee and was a member of the RPAC Participation Council in 2018. She also served on numerous other NAR Committees.
"The Mary L. Pollock Lifetime Achievement Award is one of Ohio REALTORS hallmark awards. Sue Lusk-Gleich is an outstanding individual that embodies all of the qualities that this award stands for," said President Seth Task. "She has shown a strong commitment to our profession on multiple levels. She has made the REALTOR industry better through her selfless work."
In addition, Sue is also very involved in her community and contributes to organizations like the Furniture Bank and Special Olympics.
Mary Pollock was the first recipient of this award in 2019.
The Ohio REALTORS, with more than 36,000 members, is the largest professional trade association in Ohio.