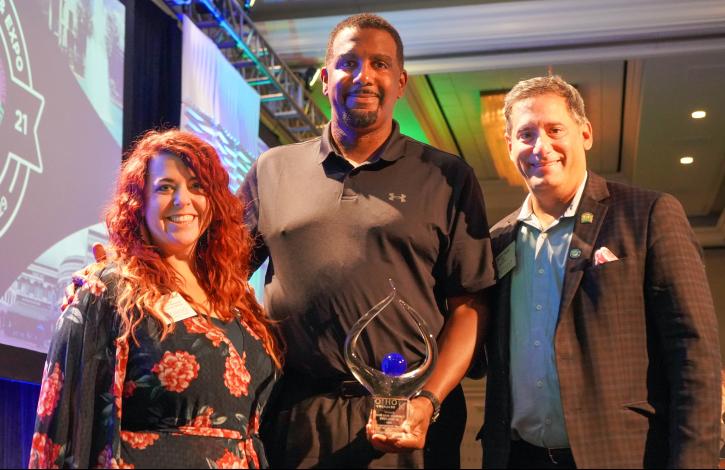 Cincinnati Area Board of Realtors receives Ohio REALTORS 2021 Young Professionals Network of the Year Award
Oct 7, 2021
Cincinnati Area Board of Realtors receives Ohio REALTORS 2021 Young Professional Network (YPN) of the Year Award. Pictured here is Heather Haase (right), chair of Ohio REALTORS YPN, Brian Million (middle), Chair of Cincinnati YPN, and Seth Task (right), Ohio REALTORS President. The announcement of the selection was made at the Ohio REALTORS 111th Annual Convention & EXPO, in Columbus, Ohio, September 27-29.
For the second year, Ohio REALTORS awarded its 2021 "Young Professionals Network of the Year Award" to the Cincinnati Area Board of REALTORS.
Even with a partial year in lockdown due to COVID-19, Cincinnati's YP Network managed to stay in constant contact with its area Young Professionals via Zoom. Programming included:
Crayons to Computers to help underprivileged children. Crayons to Computers has worked to level the playing field in the classroom by ensuring that teachers can provide their students in need the tools to succeed in school.
Cincinnati's YPN, in partnership with its Professional Development Department, hosted an "At Home with Diversity" course. The idea stemmed from a virtual happy hour event on the topic of systemic racism with National Association of REALTORS YPN Advisory Board Members--Tommy Choi and Harrison Beacher. With everything going on in the country today, the Network thought it was important to shed additional light on this topic and encourage its members to engage in the conversation. It was well attended and very meaningful to all who attended.
Another education program included a virtual lunch with Tik-tok celebrity and comedian Jason Banks on how to use the app for real estate.
Cincinnati YPN was able to host an in-person happy hour where collections were made for Pathways to Home charity. Pathways to Home is a non-profit agency, with the mission of assisting young, first-time mothers.
Finally, Cincinnati YPN met monthly to encourage its members to engage in other charitable areas and serve on local board committees.
The Ohio REALTORS, with more than 36,000 members, is the largest professional trade association in Ohio.