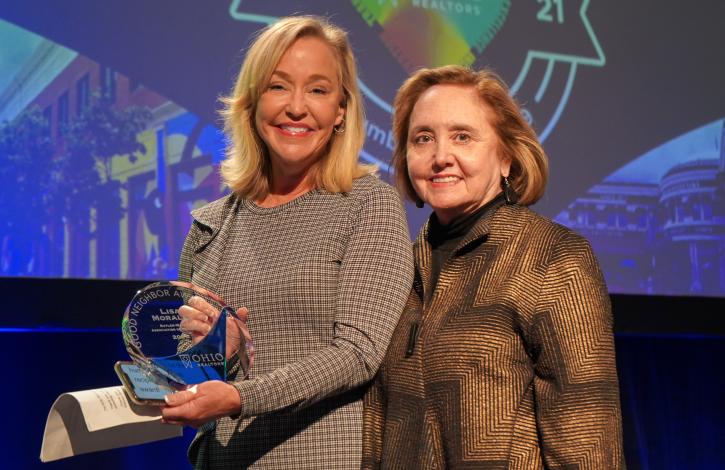 Lisa Morales receives Ohio REALTORS 2021 Good Neighbor award
Oct 7, 2021
REALTOR Lisa Morales, of West Chester, is honored with the Ohio REALTORS 2021 Good Neighbor Award at the Ohio REALTORS 2021 Annual Convention & Expo in Columbus, Sept. 27-29. Morales (left) is pictured here with Nancy Farkas (right), chair of Ohio REALTORS Communication Committee.
Morales, who was nominated by the Butler-Warren Association of REALTORS, is associated with Coldwell Banker Realty.
The Good Neighbor Award, one of the organization's most prestigious honors, is presented to an individual REALTOR who has shown exemplary commitment to community service.
Morales, who is a member of the Butler-Warren Association of REALTORS and Cincinnati Area Board of REALTORS, is very passionate about helping others and has been involved with the Salvation Army from a young age. Her family has been deeply devoted to the cause for more than 100 years, ever since her grandmother was touched by their outreach and generosity when she was living in an orphanage.
Lisa also finds other ways to be involved in her community. Last year, she partnered with the Butler-Warren Association of REALTORS to bring the first annual local REALTOR Ring Day to the area, which saw a huge turnout. REALTORS participated by volunteering to "Ring The Bell" at local businesses over the Christmas holiday. All proceeds benefited the Salvation Army.
One of Lisa's greatest accomplishments is her Annual Coat & Toy Drives. This year was the 8th year and saw the highest turnout yet. Together with the agents on the Coldwell Banker team and their circles of influence, 200 children were able to be sponsored for the holidays. Additionally, Lisa and her husband, Rich, made a monetary donation to ensure every child who signed up for the drive received a Christmas tree.
Morales also teamed up with Sammy's Craft Burgers & Beer Food Truck to donate funds to her local Elementary PTO. This was the culmination of a whole summer's worth of weekly food truck nights for her neighborhood, to spread some good food and happy feelings during COVID-19.
Lisa has been recognized for her work and was asked to lead a roundtable with Coldwell Banker last year, mentoring other REALTORS about how they can make an impact within their communities too.
The Ohio REALTORS, with more than 36,000 members, is the largest professional trade association in Ohio.