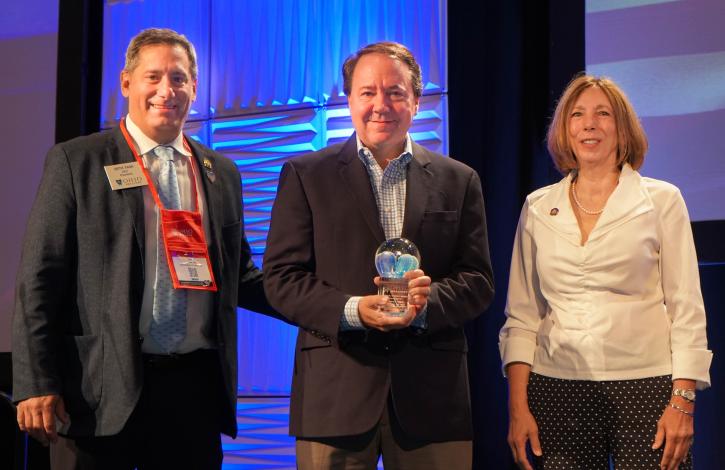 Ohio REALTORS honors Ohio Business Roundtable's Pat Tiberi with the Association's 'Public Service Award'
Oct 8, 2021
Ohio REALTORS President Seth Task (on left) presents the Public Service Award to Pat Tiberi (in middle). On right is Joanne Zettl, 2021 Ohio REALTOR Party, Vice Chair and 2021 RPAC Fundraising, Chair.
Ohio REALTORS presented its Public Service Award to former Congressman and President/CEO of the Ohio Business Roundtable Pat Tiberi, for his leadership and guidance to Ohio's economy during the COVID-19 pandemic.
The award was presented by Ohio REALTORS President Seth Task at the organization's RPAC Breakfast during the 111th Annual Convention & EXPO, Sept. 27-29, in Columbus.
"Pat Tiberi is a true friend of the REALTOR community and a champion of the issues that affect us," Task said. "Tiberi played a critical role in ensuring that REALTORS were deemed essential during the COVID-19 pandemic, allowing us to continue to bring the American Dream to reality during uncertain times."
The Ohio REALTORS, with more than 36,000 members, is the largest professional trade association in Ohio.