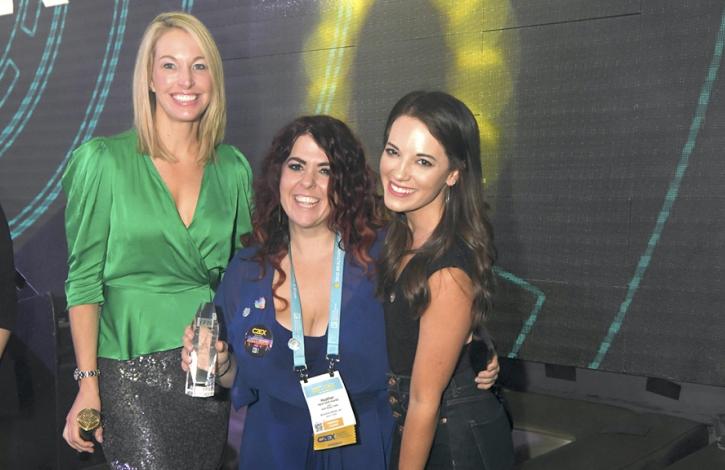 Ohio YPN receives NAR top honor
Nov 30, 2021
From left: Georgia Stevens, National Association of REALTORS 2021 YPN Vice Chair; Ohio REALTORS 2021 YPN Chair Heather Haase and Rebecca Donatelli, Ohio REALTORS YPN member
By Nikki Gasbarro, Ohio REALTORS Director of Online Communications
Ohio REALTORS was awarded with the National Association of REALTORS Young Professionals Network (YPN) of the Year at its recent convention in San Diego.
This is the first time Ohio has received this award. Under the direction of Chair Heather Haase and V. Chair Kyle Oberlin the network undertook a variety of activities this year, including:
Quarterly conference calls to discuss network activities and determine if any network needed assistance, to discuss statewide programming and other issues of interest to Ohio YPs.
Initiated a educational Summer Series conducting courses on business etiquette and LGBTQ homebuyers.
Sponsored Richard Rothstein during the Association's Winter Confernce on the book, the Color of Law. Rothstein later sat for a podcast with OR staff on the topic.
Formed a new network at the Guernsey Muskingham Vally Association, an important geographical area that was currently underserved in YP activities and representation.
Held YPN Care Week from June 6-12. Network members contributed time to conduct community service activities.
Sponsored Toys for Tots in Dec. 2020 by providing monetary assistance to networks to enable them to purchase more toys.
Once again joined forces with RPAC at an annual event during the OR Convention at PINS Mechanical. Ohio YPN donated $3,000 for auction items and drink tickets at the event.
"Kyle and I are thrilled to receive this award," said Ohio REALTORS 2021 YPN Chair Heather Haase. "I was in San Diego at the awards ceremony and so happy I could represent Ohio in receiving this prestigious award. I want to personally thank all of Ohio's local YP Networks, without their participation, we would have never have received this award."