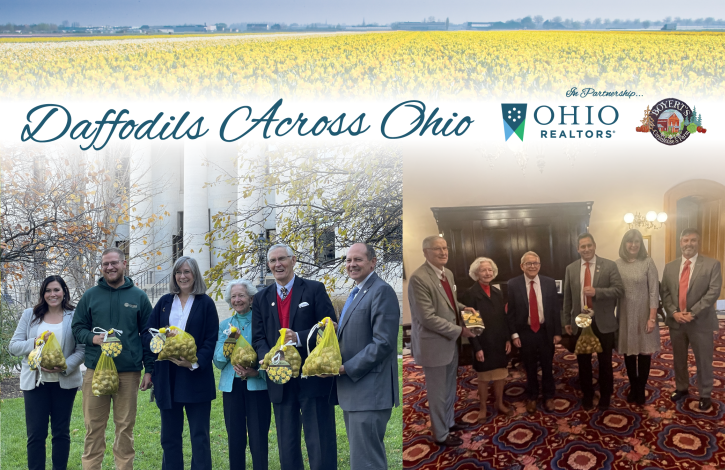 Ohio REALTORS' 'Daffodils Across Ohio' project to bloom at Statehouse
Nov 30, 2021
Ohio REALTORS proudly presented a donation of 500 daffodil bulbs to key Ohio leaders, including Gov. Mike DeWine, Sen. Jay Hottinger and Laura Battocletti, executive director of the Capitol Square Review & Advisory Board, as part of it's "Daffodils Across Ohio" service project to honor the lives of people who passed away due to COVID as well as honor the sacrifices of frontline workers during the pandemic.
In total, Ohio's REALTOR community purchased and planted 14,000 daffodil bulbs throughout the state. The project, proposed by longtime member Jim Camp of North Canton, was inspired by comments made by Gov. Mike DeWine during his inauguration speech in 2019. During the speech, DeWine noted that his father, who was battling cancer, encouraged his children to plant daffodils in the fall so that they could remember him when they bloomed in the spring. Camp, who received the Association's prestigious Mary L. Pollock Lifetime Achievement Award for his remarkable service to the profession in 2020, proposed the "Daffodils Across Ohio" project to beautify communities, remember the lives lost due to COVID and honor the service of hospital workers, first responders, health care workers and goverment officials.
"The response of REALTORS throughout the state to this initiative was remarkable and, as a result, the profession has made a lasting contribution to improving our respective communities," said Ohio REALTORS President Seth Task. "More importantly, becasue of Jim Camp's effort, each spring hundreds of daffodils will emerge across the the grounds of our beautiful Statehouse as a reminder of our loss and tribute to can-do spirit of the first-responders and health care professionals."