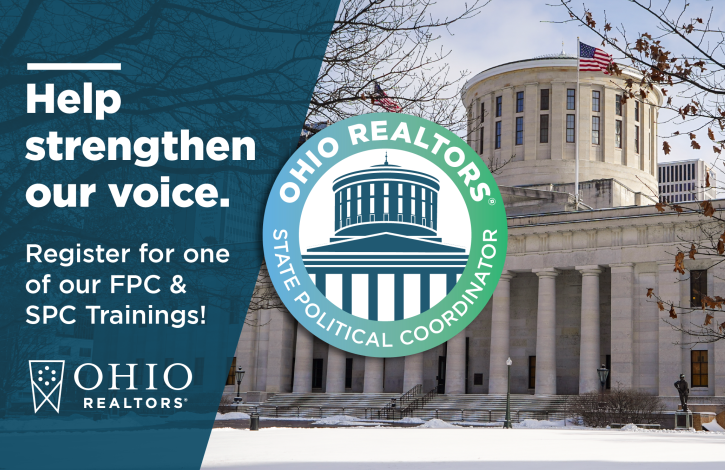 Become a key part of Ohio REALTORS advocacy efforts!
Feb 3, 2022
Ohio REALTORS is offering training sessions in five locales across the state for REALTORS interested in becoming one of the profession's leading voices with elected officials in Columbus and on Capitol Hill. The REALTOR Political Coordinator Program is one of the Association's key advocacy initiatives -- partnering REALTORS with members of the Ohio General Assembly and Congress to help advance the industry's public policy efforts.
The Ohio REALTORS 2022 Federal and State Political Coordinator Training will be held regionally in early March for current State and Federal Coordinators, Executive Officers, Government Affairs Directors or any member interested in joining the program.
CLICK HERE to register for the FREE program being offered at a location near you:
March 2, 2022 9 a.m. – 12 p.m.
Hancock Hotel, 631 South Main Street, Findlay, OH 45840
*Valet Parking is $5

March 3, 2022 9 a.m. – 12 p.m.
Country Inn & Suites by Radisson
1420 Main Street
Cuyahoga Falls, OH 44221

March 9, 2022 9 a.m. – 12 p.m.
Hilton Garden Inn Cincinnati/West Chester
9306 Schulze Drive
West Chester, OH 45069

March 10, 2022 9 a.m. – 12 p.m.
Cambridge Country Club
60755 Southgate Road
Byesville, OH 43723

March 16, 2022 9 a.m. – 12 p.m.
Ohio REALTORS Headquarters
200 East Town St.
Columbus, OH 43215
Political Coordinators are REALTOR members who are paired with a member of Congress or the Ohio General Assembly and serve as a point-person on real estate issues affecting our nation and state. Political Coordinators put a face on the issues that are being debated from Washington D.C. to the Statehouse. Our Political Coordinators will participate in a one-day training and hear from staff and elected officials about the nuts and bolts of being a political coordinator, how to get the most out of your meetings and the importance of balancing your role as a political coordinator. Each event is FREE and open to REALTORS currently serving as a political coordinator or any member interested in becoming a political coordinator as well as GADs, and Executive Officers. Each session includes coffee, snacks, and course materials.
If you have any questions about the Political Coordinator program, please email Veronica Cardello. Additionally, you can CLICK HERE for more information about the program.