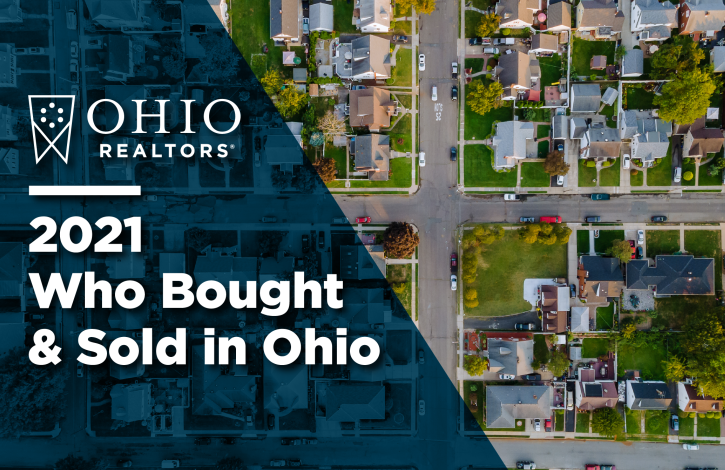 Study examines who bought & sold homes in 2021
Apr 21, 2022
Ohio REALTORS, in partnership with the Ohio Real Estate Commission and Ohio Division of Real Estate & Professional Licensing, recently released a comprehensive look at who bought and sold homes in Ohio in 2021. The Profile of Homebuyers and Sellers study, which examines Ohio with results from across the nation, provides a clear understanding of what consumers want in terms of housing and expectations of a real estate profession.
The 2021 study, which includes outcomes from an entire year of sales that occured during the COVID pandemic, shows an significant jump in buyers noting that the top factor in neighborhood choice was be be close to family and friends. Previous studies found that buyers wanted neighborhoods that were affordable and close to work.
Other highlights of the Ohio 2021 Profile:
First-time buyers accounted for 37% of market activity in Ohio last year, an increase from 32% in 2020.
The typical buyer in Ohio was 48 years old (including both first-time and repeat buyers), with a median income of $73,500.
97% of Ohio buyers purchased an existing home -- the highest level in the past three studies.
46% of buyers started their search online.
The median number of weeks an Ohio buyers searched for a home rose to 13 weeks, up from 10 in 2020.
The number of homes viewed during their search increased to 10, up from six in the 2020 profile.
83% of homes were purchased with the assistance of an agent. Further, 92% of buyers would recommend/use their agent again -- an increase from 89% in 2020.
81% of buyers view homeownership as a good financial investment.
80% of sellers used an agent in 2021, a decrease from 88% the prior year.
The percentage of listing price for which the home sold in Ohio -- 100%.
91% of sellers would use/recommend their agent again.
32% of sellers said the agent's reputation was the top factor in their selection process.
CLICK HERE to read the full report, which also includes detailed findings from the Cincinnati, Cleveland and Columbus markets.