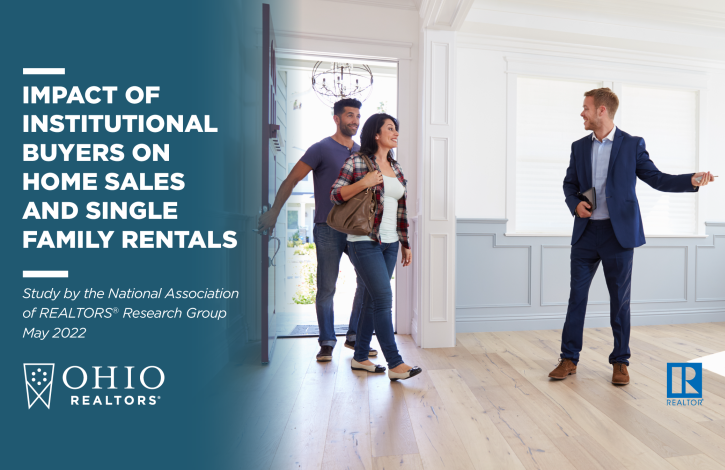 REALTOR study finds institutional home buyers in Ohio surpass national rate
May 24, 2022
The number of residential home sales involving institutional buyers in Ohio outpaced the national average, according to the latest findings by the National Association of REALTORS.
Overall, institutional buyers accounted for 16% of home sales across Ohio in 2021, tying the state for the nation's sixth highest rate. The report -- Impact of Institutional Buyers on Home Sales and Single-Family Rentals -- found a 1.5% uptick in the share of institutional buyers in Ohio from 2020 to 2021.
Among the key takeaways:
Nationally, institutional buyers made up 13% of the residential sales market in 2021, with the median purchase price of insitutional buyers typically 26% lower than the states' median purchase price.
Institutional buyers tend to purchase in markets with rising household formation, strong housing and rental markets, and high income markets -- but also with a high density of minority groups, especially Black households..
The major reason home owners sold to institutional investors -- they offered cash, purchased the property "as is" or offered a guaranteed purchase.
42% of properties purchased were converted to single-family rentals and 45% were resold, an indication that institutional purchases subtract from the available housing for homeownership.
CLICK HERE to access the full NAR report.