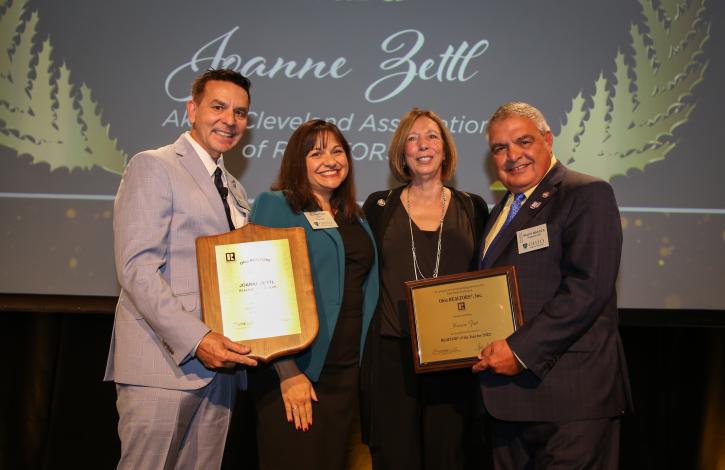 Joanne Zettl receives Ohio's 2022 'REALTOR of the Year' Award
Sep 23, 2022
From left: Ohio REALTORS 2022 President John Mangas, Treasurer Ali Whitley, Ohio's 2022 REALTOR of the Year Joanne Zettl, and President-elect Ralph Mangas
REALTOR Joanne Zettl, of Moreland Hills, was honored as the Ohio REALTORS 2022 "REALTOR of the Year."
The announcement of Zettl's selection was made at the Ohio REALTORS 112th Annual Convention & EXPO, Sept. 18-21, in Cleveland.
Zettl was nominated by the Akron Cleveland Association of REALTORS (ACAR) and is affiliated with Elite Sotheby's International Realty. She has been a REALTOR since 1985 and was licensed as a broker in 1990.
Judging of the "REALTOR of the Year" award is based on professional achievements, local REALTOR Board/Association activities, service at Ohio REALTORS, and National Association of REALTORS involvement, as well as business and education experience and civic activities.
At the local level, Zettl served as President of the Akron Cleveland Association in in 2013. Additionally, she has served on and chaired a variety of ACAR committees, including Grievance, Professional Development Equal Opportunity, Legislative, REALTOR of the Year, RPAC Trustees, Professional Standards, Community Watchdog Program, and Rental/Property Management Forum, among others. Zettl has also served as a Trustee on ACAR's Harold L. Klarreich Scholarship Foundation since 2009.
For Ohio REALTORS, Zettl has been an active participant in governance meetings as a member of its Board of Directors (1996-2000, 2003-2006, 2011-present), as well as serving as a member and chairing a host of Committees -- including: Executive, Communications, Political Activity & RPAC Fundraising, Enlarged Legislative, Legal Issues, Local Government, Professional Standards Forum, Political Advocacy Fund, and Issues Mobilization. She serves as Ohio REALTORS District 3 Vice President (2021-2022).
Zettl graduated from the Ohio REALTORS Leadership Academy and served on its Advisory Board from 2018-2020. She serves as the Ohio REALTORS Political Coordinator for Sen. Kenny Yuko (D-District 25).
For the National Association of REALTORS, she serves on the Risk Management Committee, served as chair of the Research Committee in 2020, and has been a member of the Housing Opportunity Committee. Zettl is a current and past member of Board of Directors for the National Association of REALTORS (2018-2020, 2021-2023).
Civically, Zettl has been active with the Chagrin Valley Chamber of Commerce, serving as President and is currently an advisor to the Executive Committee, and has been a member of the Village of Chagrin Falls Mayor's Advisory Committee. Additionally, she is a current Board member for the Chagrin Documentary Film Fest, been actively involved with Your Hometown (formerly Downtown Chagrin Falls), Chagrin Foundation for Arts & Culture and currently serves as Vice President of the Chagrin Valley Little Theater.
Zettl holds a Bachelor of Arts from John Carroll University and studied at the American Institute of Paralegal Studies, Hobbs Herder School of Management, Covey Leadership Center, Dale Carnegie Customer Relations & Employee Development and Institute for Luxury Home Marketing. She has earned the following professional designations from the National Association of REALTORS: AHWD (At Home With Diversity), CRB (Certified Real Estate Brokerage Manager), CRS (Certified Residential Specialist), e-Pro, GRI (Graduate, REALTORS Institute), PSA (Pricing Strategy Advisor) and SRES (Senior Real Estate Specialist).
Ohio REALTORS, with more than 37,000 members, is the largest professional trade association in Ohio.