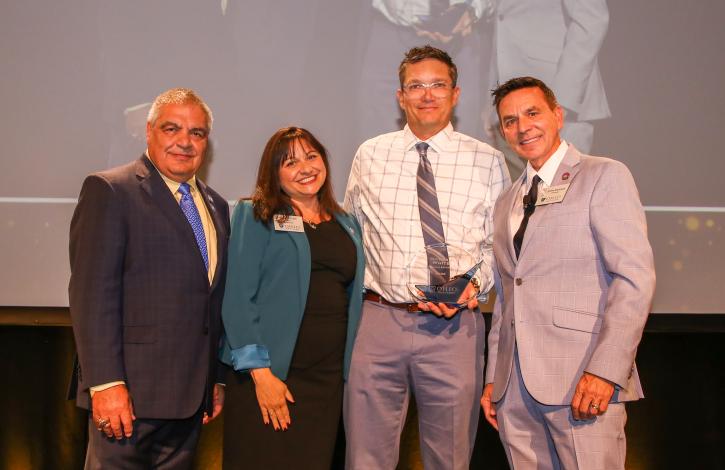 Nathan White selected as Ohio REALTORS 2022 Good Neighbor Award recipient
Sep 26, 2022
(From left): Ohio REALTORS President-elect Ralph Mantica, Treasurer Ali Whitley, Ohio REALTORS 2022 Good Neighbor Award Recipient Nathan White, and President John Mangas
REALTOR Nathan White, of Plain City, is honored with the Ohio REALTORS 2022 Good Neighbor Award.
White was presented with the award at the Ohio REALTORS 2022 Annual Convention & Expo in Cleveland, Sept. 18-21. White also serves as Ohio's nominee for the National Association of REALTORS Good Neighbor Award.
White is associated with NextHome Experience in Columbus.
The Ohio REALTORS Good Neighbor Award, one of the organization's most prestigious honors, is presented to an individual REALTOR who has shown exemplary commitment to community service.
Almost four years ago, Nathan White and his wife Lindsay faced a tragedy that most will never understand. His prematurely born son, Reagan, died only a few hours after his birth. However, that painful moment set White on a new course that transformed his personal and professional life.
While grieving the loss of his son, White turned to one of his loves -- running. Although he'd already mastered half-marathons and marathons, he decided to up the ante. Since 2016, White has run 50k, 100k, and 100-mile races, and has even incorporated Ironman and long-distance biking into his rigorous competition schedule.
Additionally, White and his wife established the Reagan Michael White Fund at the OhioHealth Riverside Methodist Hospital. The fund helps single mothers and families who need money for groceries, utilities, rent, transportation, and in some tragic cases, funeral expenses.
They also use the fund to host Mothers' Night Out events and provide Christmas gifts for families at the hospital.
Over the past four years, White has raised $30,000 with help from family, friends, community members and Fat Heads Brewery, who created Reagan's Comet, a specialty brew that's sold once a year to benefit the fund.
The Ohio REALTORS, with more than 37,000 members, is the largest professional trade association in Ohio.