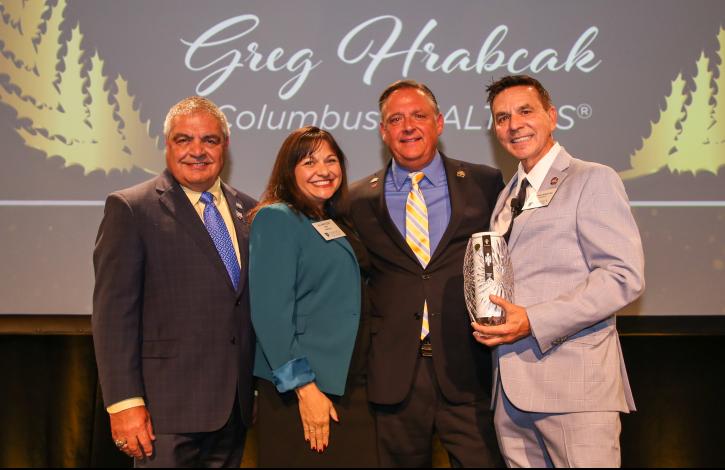 Greg Hrabcak receives Ohio REALTORS 2022 Vincent T. Aveni Lifetime Achievement Award
Sep 27, 2022
From left: Ohio REALTORS President-elect Ralph Mantica, Treasurer Ali Whitley, Ohio REALTORS 2022 Vincent T. Aveni Lifetime Achievement Award recipient Greg Hrabcak, and President John Mangas
REALTOR Greg Hrabcak, of Columbus, was honored with the Ohio REALTORS 2022 Vincent T. Aveni Lifetime Achievement Award at the Ohio REALTORS Convention, held Sept. 18-21, in Cleveland.
The Vincent T. Aveni Lifetime Achievement Award recognizes those Past Presidents of Ohio REALTORS that provided exemplary service to the organization. Aveni served as President of the organization in 1980 and the award was created after his passing in 2006.
The Award, created by the Ohio REALTORS Past Presidents Committee, is bestowed upon a Past President who has demonstrated a continued commitment to the same values and passion for excellence that Aveni displayed throughout his life. Hrabcak served as President of the Ohio REALTORS in 2015.
On the local level, Hrabcak served as president of many Columbus real estate organizations including Columbus REALTORS in 2008, and the Columbus Commercial Industrial Investment REALTORS (1993), the Ohio Business Brokers Association (1992), and the Columbus Real Estate Exchangers (1994).
On the state level, Hrabcak served as an Ohio REALTORS District Vice President in 2011-2012 and as an Ohio REALTORS Director since 1999. He has chaired numerous Ohio REALTORS committees including Enlarged Legislative, Legislative Steering, Legal Action, Commercial Industrial, as well as the Local Government and Professional Standards Forums.
In 2020, he served as National Association of REALTORS (NAR) Region #6 Vice President, representing Ohio and Michigan. He was inducted into the Ohio Hall of Honor and NAR Hall of Fame in 2019. He was also chair of NAR Commercial Real Estate Research Subcommittee and is a member of the Commercial and Research Committees. He is the Federal Political Coordinator for Congressman Troy Balderson. In spring 2022, Hrabcak was elected as NAR Treasurer and will serve his term in 2023-2024 as a member of the four-person leadership team.
Additionally, Hrabcak holds the CCIM (Certified Commercial Investment Member) designation of NAR and received the Columbus REALTORS $25 Million Award in 2011.
He is a real estate class instructor and has developed programs for Columbus REALTORS, Ohio REALTORS and NAR, as well as instructed courses at the Columbus State Community College.
"I cannot think of anyone more deserving to win this award," said Ohio REALTORS President John Mangas. "Greg's commitment and passion to this industry is exceptional and he is such an important figure not only to Ohio REALTORS, but at the national level, too."
Previous recipients of the Vincent T. Aveni Lifetime Achievement Award include: Vince Aveni, 2007; Paul Everson, 2008; Harley Rouda, 2009; Owen Hall, 2010; George Smith, 2011; Steve Brown, 2012; Barbara Lach, 2013; Terry Hankner, 2014; John Lynch, 2015; Steve Casper, 2016; Bonnie Boyd, 2017, Darlene Breen, 2018; Brad Knapp, 2019, Jim West, 2020, and Chris Hall, 2021.
The Ohio REALTORS, with more than 37,000 members, is the largest professional trade association in Ohio.