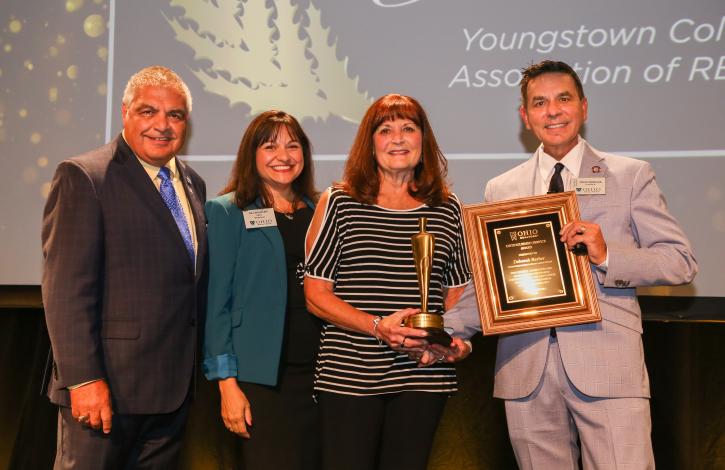 Deborah Barber receives Ohio REALTORS 2022 Distinguished Service Award
Sep 28, 2022
From left: Ohio REALTORS President-elect Ralph Mantica, Treasurer Ali Whitley, Ohio REALTORS 2022 Distinguished Service Award recipient Deborah Barber, and President John Mangas
REALTOR Deborah Barber of the Youngstown Columbiana Association of REALTORS was honored with the 2022 Ohio REALTORS Distinguished Service Award.
The announcement of Debbie's selection was made at the Ohio REALTORS 112th Annual Convention & EXPO, Sept.18-21, in Cleveland.
Ohio REALTORS created the "Distinguished Service Award" to honor long-standing members who have demonstrated an uncommon commitment to the goals and purposes of the REALTOR Association at the local, state, and national levels. Those eligible for the award must have been active members of the Association for 25 years and cannot have served as president of the organization.
Barber is affiliated with Altobelli Real Estate in Niles.
For the Youngstown Columbiana Association, Barber has chaired both her local Legislative Committee and REALTORS Political Action Committee. She has also served on the Board's Professional Standards for many years and served as its President in 2002
For Ohio REALTORS, Barber was named its REALTOR of the Year in 2021. She has served as a member of its Board of Directors, chaired Professional Standards, and served on numerous committees such as RPAC Fundraising, Legislative, Legislative Steering, Local Government Forum and Issues Mobilization.
Barber is the organization's Federal Political Coordinator for Congressman Tim Ryan.
Barber holds the Accredited Buyer's Representative (ABR) and Certified Residential Specialist (CRS) professional designations and attends the National Association of REALTORS Legislative Meeting annually.
The Ohio REALTORS, with more than 37,000 members, is the largest professional trade association in Ohio.